Index of All Cemeteries
Alphabetical Index of All Burials
Previous Page
Use the following to search across all the cemeteries listed.
Example: "Smith, Roger" (yes, use the quotes)
276 STADLERS/STATLERS SLAVE CEMETERY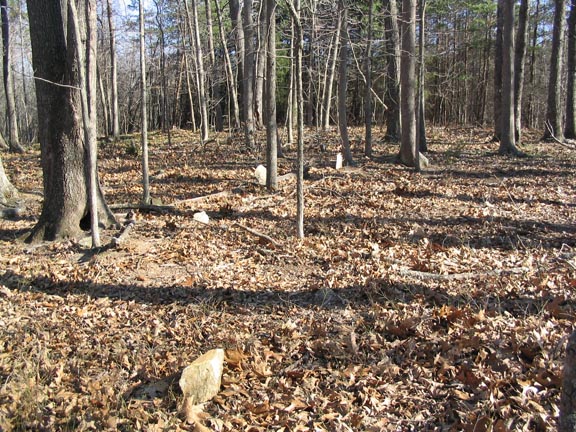 Location - In Northern Cedar Grove Township near the Caswell County line east of the intersection of Hwy 86 and Hwy 49, about 150 ft. from the roadside. On private property.

Coordinates: 36d 14m 24.5s N; 79d 11m 22.1s W Click here for Google maps

There are no burials listed for this cemetery.

Survey - This cemetery was surveyed on October 31, 1974. Margaret Jones of the Orange County Environment & Resource Conservation Department and Milton Forsyth visited and photographed the cemetery on 15 Mar 2006.

Graves, Unmarked - There were approx. 9 rows of graves, possibly more, for a total number of 200 or more unmarked graves.

Status - A very large cemetery some 200 ft. N-S and 100 ft. E-W on a slight rise in a cleared area of hardwood trees with some periwinkle. There are a number of handsome rough stones, said to have borne inscriptions at one time. None is visible now. PIN 9940-25-9835.


Web page updated 13 May 2017
Index of All Cemeteries
Alphabetical Index of All Burials
Previous Page