Index of All Cemeteries
Alphabetical Index of All Burials
Previous Page
Use the following to search across all the cemeteries listed.
Example: "Smith, Roger" (yes, use the quotes)
273 TINNIN SLAVE CEMETERY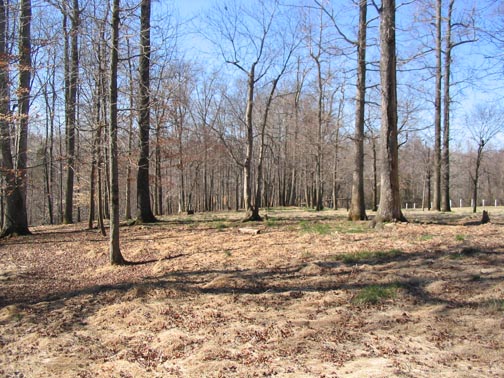 Location - In Cedar Grove Township west of Highland Farm Rd (SR #1332) on the east bluffs of the Eno River. Formerly "behind Harvey Knowles' and Mr. Liner's houses." Now in a rear pasture of what is known as Twin Oaks Ranch, 4314 Highland Farm Road. Private property.

Coordinates: 36d 08m 18.9s N; 79d 09m 54.1s W Click here for Google maps

Survey - The site may not to have been visited during the 1970s survey. Margaret Jones of the Orange County Environment and Resource Conservation Department and Milton Forsyth visited the site with the permission of the current landowner on 6 Mar 2007 in the company of Mr. David Liner and Mr. Chip Liner, whose family previously owned the property.

Graves - There were in the past a large number of graves marked by fieldstones, believed to be of the slaves of the Tinnin family. No burials are listed for this cemetery.

Comments - In the 1970s the cemetery was identified as "Catlett Tinnin's Slave Cemetery" with the implication that it was also the burial place of Mr. Tinnin. The descriptive comment in the cemetery survey notes was that there were "about 2 acres of periwinkle - many boulders," but this description may relate to the the nearby mill site on the Eno River. The Liners said when they were growing up the cemetery was in a more heavily wooded area and had many fieldstones and depressions, which are not now evident in the pasture environment.

No record has been found of the burial of Catlett C. Tinnin (known as "Cattle"), who died 1 Mar 1877 at age 80, and his wife, Mary D. Tinnin, who died 16 Dec 1865 at age 67. However, their son, Robert Franklin Tinnin, who died 21 May 1849 at age 20, and one daughter, Theresa, who married John Newton Clarke and who died 13 Sep 1863 at age 38, are buried at Eno Presbyterian Church Cemetery [Old] (Cemetery #020). It is reasonable to conclude both Catlett Tinnin and his wife were buried at Old Eno also, and that this cemetery is not a family cemetery. [Death information from Shirley J. Mallard, Death and Marriage Notices from the Hillsborough Recorder, 1997, pp. 369, 315, 159, 95, 296 - Research by Milton Forsyth].


Web page updated 13 May 2017
Index of All Cemeteries
Alphabetical Index of All Burials
Previous Page