Index of All Cemeteries
Alphabetical Index of All Burials
Previous Page
Use the following to search across all the cemeteries listed.
Example: "Smith, Roger" (yes, use the quotes)
270 CAREY, JORDAN FAMILY CEMETERY (CA. 1883)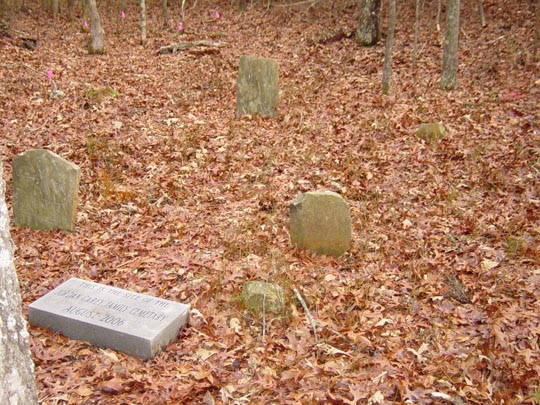 Location - In NE Cedar Grove Township east of Tapp Road (SR #1513), near the county line in a heavily wooded area. On private property with restricted access (the 43 acre tract on which it is located is PIN 9970-26-2246).

Coordinates: 36d 14m 08.8s N; 79d 05m 28.3s W Click here for Google maps

Survey - The site was visited 30 December 2006 by Millard and Laura Page, Neil Carey and Lathan Tilley. They provided the information and photographs for this cemetery. The family placed a marker in the cemetery reading: "This is the site of the Jordan Carey Family Cemetery, August 2006". Click here for a picture of the monument.

Graves - There are two graves marked with engraved fieldstones.

Comment - It has not been determined when or how Jordan Carey acquired the property on which the cemetery is located, but it may have been inherited by his wife. When he died in 1883, he left the 110 acres on which he lived and all his personal property, excepting a life estate of his wife, to his son, William Carey (O. C. Will Book H, p. 332). William mortgaged the land 24 Apr 1888 (O. C. DoT 15:358) and sold the land on 11 Apr 1889 (O. C. DoT 17:252) without exempting the cemetery, by which action the property on which the cemetery stood passed out of the Carey family.


Carey, Jordan (b. - d. 7 Jul 1883)
J. Carey D July the 7, 1883

Carey, Sallie Parker (b. 18 Dec 1801 - d. 21 Feb 1884)
Mrs S H C, B D 18, 1801, D F 21, 1884 Wife of Jordan Carey.
Web page updated 13 May 2017
Index of All Cemeteries
Alphabetical Index of All Burials
Previous Page