Index of All Cemeteries
Alphabetical Index of All Burials
Previous Page
Use the following to search across all the cemeteries listed.
Example: "Smith, Roger" (yes, use the quotes)
263 ACKLAND, WILLIAM HAYES, TOMB OF (1958)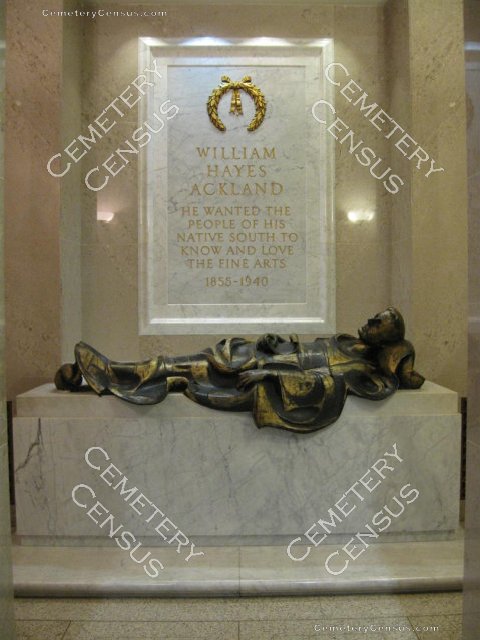 Location - In Chapel Hill Township at 101 South Columbia St. in downtown Chapel Hill in the Ackland Art Museum.

Coordinates: 35d 54m 45.0s N; 79d 03m 18.0s W Click here for Google maps

Comment - William Hayes Ackland is entombed in the museum he established for the people of the American South. See the history of the Ackland Art Museum for information about his life. The recumbent figure of William Hayes Ackland is by the American sculptor Milton Elting Hebald and was emplaced in 1961. Photograph by Milton Forsyth with permission of the museum.


Ackland, William Hayes (b. 6 Sep 1855 - d. 16 Feb 1940)
Born in Nashville, Tennessee, where he was originally entombed in the family mausoleum following his death. In accordance with his bequest, his remains were moved to Chapel Hill in 1958 to the museum he had donated the money to establish at the University of North Carolina at Chapel Hill.
Web page updated 13 May 2017
Index of All Cemeteries
Alphabetical Index of All Burials
Previous Page