Index of All Cemeteries
Alphabetical Index of All Burials
Previous Page
Use the following to search across all the cemeteries listed.
Example: "Smith, Roger" (yes, use the quotes)
258 CABE, WILLIAM SLAVE CEMETERY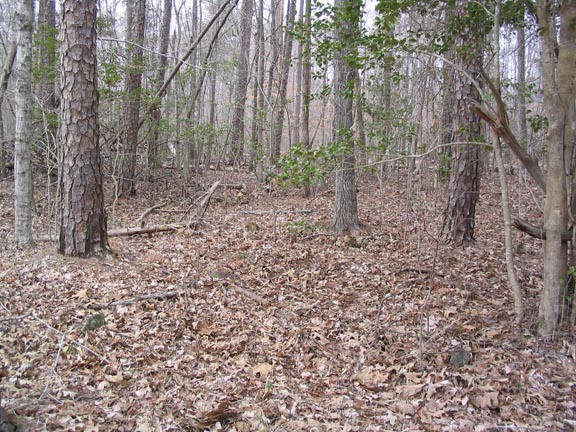 Location - In Eno Township on State property at the end of Cabe Ford Road (SR #1570), in a wooded area above the Eno River and 345 ft slightly west of south from the William Cabe Cemetery (#105).

Coordinates: 36d 03m 46.5s N; 79d 00m 34.7s W Click here for Google maps

Survey - Surveyed in December, 1971 by Jean Bradley Anderson, whose original notes describing the cemetery are preserved below. Margaret Jones of the Orange County Environment & Resource Conservation Department and Milton Forsyth visited and photographed the cemetery on 8 Mar 2006.

Graves, Unmarked - There are up to 20 graves marked with fieldstones and/or depressions in the cemetery. One row along an old overgrown farm road holds at least 10 graves and a 2nd row east of that holds 5 or more graves.

Comment - Notes taken from a map prepared by Jean Anderson - Dec. 1971: The William Cabe Slave Graveyard now on land of the late R. L. Brame, about 175 ft. south of the fence that separates the Brame land from Carl L. Anderson's on which the William Cabe Graveyard lies. The slaves may possibly have been also Barnaby Cabe's, William's father, who lived on the site before him. No stones have inscriptions.

Comment [2009] - This property was purchased from the Brame heirs by the Eno River Association and donated to the State of North Carolina in December 2008 to become part of the Eno River State Park.


Web page updated 13 May 2017
Index of All Cemeteries
Alphabetical Index of All Burials
Previous Page