Index of All Cemeteries
Alphabetical Index of All Burials
Previous Page
Use the following to search across all the cemeteries listed.
Example: "Smith, Roger" (yes, use the quotes)
257 STROWD, BRYANT, FAMILY CEMETERY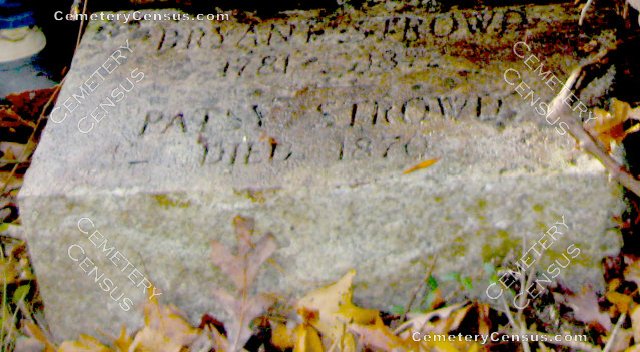 Location - In Bingham Township east of Ford Road (SR #1949) on a horse farm at 1000 Ford Rd.

Coordinates: 35d 53m 27.4s N; 79d 10m 25.8s W Click here for Google maps

Survey - Information on this cemetery was provided by a descendant, Bebe Johns Fox (Mrs. John Fox). Photo courtesy of Mrs. Fox's family. Note: The map location indicated is approximate.

Graves - In addition to the burials indicated by the markers, field stones mark a few other graves in the plot.

Comments - The cemetery is located on private property, but an access path is indicated on the property plat - request permission to visit. The cemetery is near the edge of the woods and is approximately 12 ft. in width and is surrounded by a low rock wall. It is shown on Orange County Plat Book 72, p 55, a portion of which is here View of plat.


Strowd, Bryant (b. 18 Jan 1781 - d. 1872)
Husband of Martha "Patsy" Wilson. Son of John Strowd and Delilah Bryant. A wealthy landowner/farmer of Orange Co.

Strowd, Martha "Patsy" Cynthia Wilson (b. 13 Apr 1795 - d. 1870)
Second wife of Bryant Strowd (m. 9 Apr 1829). Dau of John Wilson and Eunice Browder.
Web page updated 13 May 2017
Index of All Cemeteries
Alphabetical Index of All Burials
Previous Page