Index of All Cemeteries
Alphabetical Index of All Burials
Previous Page
Use the following to search across all the cemeteries listed.
Example: "Smith, Roger" (yes, use the quotes)
256 UNIDENTIFIED CEMETERY - NOBLE STREET, CHAPEL HILL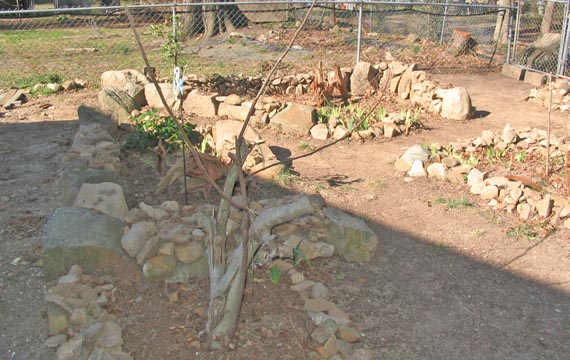 Location - In Chapel Hill Township in the Town of Chapel Hill, in the rear of the lot at 108 Noble Street. Private property.

Coordinates: 35d 55m 02.9s N; 79d 03m 34.2s W Click here for Google maps

Survey - Milton Forsyth visited and photogaphed the site on 24 Feb 2007 with the permission of the property owners, Leslie Ann Montana and her husband, Marc Laurent Serre.

Graves, Unmarked - There were 2 unmarked graves in this cemetery. No burials are listed.

Status [2007] - The Noble Street Cemetery is said to have been in existence at the time Prof. M. C. S. Noble assembled a tract of some 13 acres of land between 1915 and 1926. This tract was located between North Columbia Street and Church Street, and north of land that lay north of West Franklin Street formerly owned by the Pritchard family and was sold to and developed by Zebulon B. Council in the mid-1920s [See O. C. Deeds 70:187, 73:195, 73:476, 81:360, and 89:58]. Following Prof. Noble's death (intestate) on 1 Jun 1942, his son and daughter inherited the property. It was sold on 30 Jan 1946 to Collier Cobb, Jr. an insurance company owner and land developer, who established "Noble Heights." Noble St. is only 1 block long, running from east to west between N. Columbia Street and Pritchard St., and the lot on which the cemetery was located was designated #9 on the plat [see O. C. Plat 4:34, Apr 1946, which does not indicate the cemetery].

The first mention of the burials found in the deeds is the sale of this lot on 14 Apr 1947 [O. C. DB 126:352]: "There are located two or more graves near or in the northwest corner of the property herein described covering a space of not more than 10' by 10' and this deed is executed, delivered and accepted subject to the encumbrances of these graves." The statement has carried forward in deeds on the property since then. In 1970 the survey team noted: "The neighboring area is still filled with sizable boulders. Only 2 unmarked graves are visible in the little (14' X 17' 2") cemetery enclosed by a low dry stone wall and hidden by a frame garage at the back of the lot." [See cemetery plat] The land was purchased by the current owner in 1998 and the house was recently expanded toward the back of the small lot, which necessitated the demolition of the old garage. The stone wall has in the past been somewhat reorganized into a garden but is still recognizable and has the same dimensions. [Research by Milton Forsyth].


Web page updated 13 May 2017
Index of All Cemeteries
Alphabetical Index of All Burials
Previous Page