Index of All Cemeteries
Alphabetical Index of All Burials
Previous Page
Use the following to search across all the cemeteries listed.
Example: "Smith, Roger" (yes, use the quotes)
252 LLOYD (LOYD), THOMAS, GRAVE OF (1792)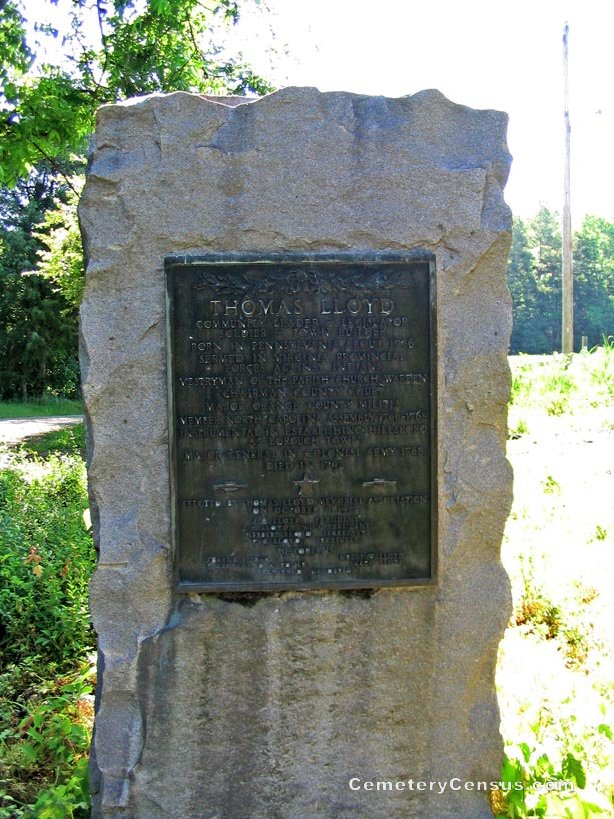 Location - In Chapel Hill Township, NW of Carrboro and near Old Highway 86 (SR #1009) in the vicinity of Calvander; exact location unknown.


Comment - The 1970s survey recorded that Thomas Lloyd was said to have been buried: "at line of trees across old #86 and field directly in front of Robert Hogan home on #86 south of Calvander (Mr. Arthur Hogan, then an old man, told Mrs. W. J. Hogan this as a young man)." Family tradition says he was buried along with three members of his family approximately 50 yards east of his farmhouse on his plantation, named "Meadows."

Monument - A monument (see monument photo) to Thomas Lloyd was erected in 1937 about 50 ft east of Old Highway 86 (SR #1009) at Stony Hill Road (private road) northwest of the Calvander intersection. The plaque was based in part on research in the book: "Sketches of Major General Thomas Lloyd of Orange County, North Carolina and Some of His Descendants;" by Eugene Sifax Sugg and P. Cleveland Gardner (Shelby, NC: 1931) and has serious inaccuracies because it includes information about Colonel Thomas Lloyd of New Hanover County (d. 1770). It reads:

THOMAS LLOYD -- Community Leader - Legislator - Soldier - Town Builder; Born In Pennsylvania About 1736; Served In Virginia Provincial Forces Against Indians; Vestryman Of The Parish - Church Warden; Chairman County Court - Major Orange County Militia - Member North Carolina Assembly 1760-1766 - Instrumental In Establishing Hillsboro As Borough Town; Major General In Colonial Army 1768 - Died In 1792. -- Erected By Thomas Lloyd Memorial Association On Oct. 6, 1937 - J R Lloyd, Pres.; J T Lloyd, Vice-Pres.; Herbert Lloyd, Sec.; P O Lloyd, Treasurer - Historians - Eugene S Sugg, P Cleveland Gardner, Mrs T W Lloyd, Lueco Lloyd, Archibald Henderson.

For a well-researched biography of Thomas Lloyd see Mary Claire Engstrom's article about him in William S. Powell's "Dictionary of North Carolina Biography," Vol. 4, pp. 77-78 (Chapel Hill, NC: UNC Press, 1991).

Note - This cemetery entry was revised by Milton Forsyth in February 2009.


Lloyd, Thomas (b. Abt 1710 - d. 1792)
See the cemetery description for more information.
Web page updated 13 May 2017
Index of All Cemeteries
Alphabetical Index of All Burials
Previous Page