Index of All Cemeteries
Alphabetical Index of All Burials
Previous Page
Use the following to search across all the cemeteries listed.
Example: "Smith, Roger" (yes, use the quotes)
248 CRABTREE, JOSEPH FAMILY CEMETERY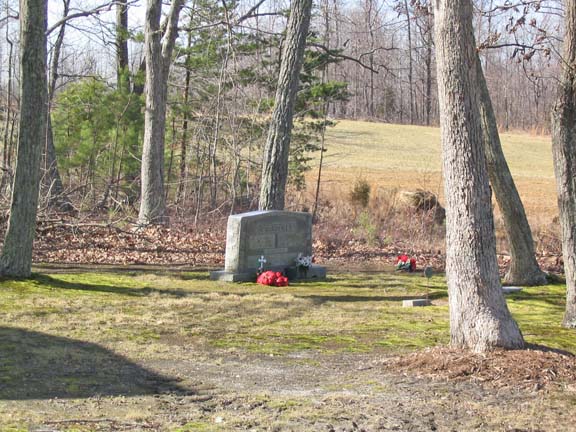 Location - Just behind the old and abandoned Five Forks Baptist Church in northern Cedar Grove Township on the north side of and adjacent to Hurdle Mills Rd (SR #1506), 0.2 mi east of Wheelers Church Rd (SR #1505). On private property.

Coordinates: 36d 14m 13.5s N; 79d 07m 41.3s W Click here for Google maps

Survey - Milton Forsyth visited the church location on 7 Feb 2005 and noted the burials behind the church. Mr. Holloway, who was related by marriage to the persons buried there, stopped by and told him about them.

Graves - There are two modern graves; there was no known church cemetery at this location.

Status - The church site is abandoned but the graves are carefully maintained by the family.


Crabtree, Beulah L. Scott (b. 3 Sep 1902 - d. 18 Dec 1974)
Wife of Joseph Martin Crabtree. Note: A stone marking her original burial site is located in the new Five Forks Baptist Church Cemetery (#023).

Crabtree, Joseph Martin (b. 14 Jul 1892 - d. 4 Oct 1985)
married October 15, 1924. "For we know that if our earthly house of this tabernacle were dissolved, we have a building of God, a house not made with hands, eternal, in the heavens. II Corinthians 5:1"
Web page updated 13 May 2017
Index of All Cemeteries
Alphabetical Index of All Burials
Previous Page