Index of All Cemeteries
Alphabetical Index of All Burials
Previous Page
Use the following to search across all the cemeteries listed.
Example: "Smith, Roger" (yes, use the quotes)
238 WADE TEMPLE HOLINESS CHURCH CEMETERY (1912)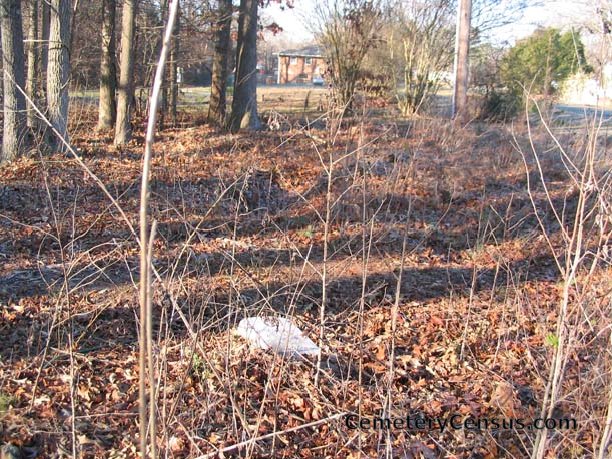 Location - In Cheeks Township in Efland at the corner of Gaines Chapel Road (SR #1316) and the southern end of the Watson Road loop (SR #1320).

Coordinates: 36d 04m 31.4s N; 79d 10m 48.3s W Click here for Google maps

Survey - Margaret Jones of the Orange County Environment and Resource Conservation Department and Milton Forsyth surveyed this cemetery on 28 Jan 2008.

Graves - There is one gravestone remaining, but it is fallen and appears out-of-place, and 6 graves were indicated by depressions. There are probably other graves that are not obvious. The cemetery is not maintained and is overgrown. A local resident said she believed graves were lost when the roads were widened some years ago.

Comment - This cemetery was established by a gift of land from Emma Wade to the Trustees of the Holiness Church at Efland, NC, stating in the deed that she was carrying out the wishes of the late George Wade. The gift included 1/2 acre for a church building and 1/2 acre for a cemetery [O. C. DB 99:176, 29 Jun 1912]. The successor Church is the McCoy's Temple United Holiness Church, which is now located near US 70 in Efland.


Williams, Mitchell W. (b. 23 Apr 1922 - d. 10 Jan 1953)
Military Marker: "North Carolina, Pvt, Co A 389 Engr Bn, World War II." Son of Wesley Williams and Bertha Ferrell; he was single. [O. C. Death Cert D36-294]
Web page updated 13 May 2017
Index of All Cemeteries
Alphabetical Index of All Burials
Previous Page