Index of All Cemeteries
Alphabetical Index of All Burials
Previous Page
Use the following to search across all the cemeteries listed.
Example: "Smith, Roger" (yes, use the quotes)
235 DURHAM, ARCHIBALD FAMILY CEMETERY (CA. 1813?)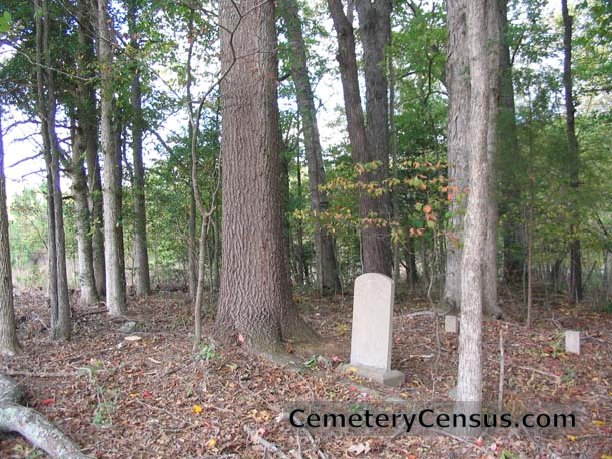 Location - In Bingham Township off Oak Forest Rd, which runs south from Tripp Rd; both private roads. On the west side of Terrell's Creek next to the clearing for a new house. Private property.

Coordinates: 35d 53m 10.1s N; 79d 11m 10.7s W Click here for Google maps

Survey - Milton Forsyth and Carl Steven Durham surveyed this cemetery 22 Oct 2007 after Mr. Durham called it to the attention of the survey.

Graves - One gravestone marking the grave of two persons and some 15 graves marked by fieldstones and/or depressions, one apparently of a child.

Comments - Some of the dates and names below were taken from a transcript of the Archibald Durham Family Bible posted online by Mr. Gerald Collins.


Durham, Archibald (b. Abt 1780 - d. 17 Jan 1840)
Husband of (1) Margaret "Peggy" Stroud, O. C. mb. 29 Mar 1803, and (2) Jane Careathers, O. C. mb. 1 Feb 1816; son of William Lindsey Durham and Nancy Anne Cate. Inscription: "Died Jan 17, 1840; Age 60 Yrs." Footstone.

Durham, Jane Careathers (b. Abt 1792 - d. 15 Jan 1867)
Second wife of Archibald Durham. Inscription: "Wife of Archibald Durham; Died Jan 15, 1867; Age 75 Yrs; Gone but not forgotten." ["Carruthers" or "Caruthers" is possibly the more common spelling of the surname of Jane, but on the gravestone here and in the family Bible the spelling used is "Careathers" and several families of that name are noted in the area during this time.] Footstone.

Durham, Margaret "Peggy" Stroud (b. 16 Apr 1787 - d. 12 Jul 1813)
First wife of Archibald Durham; dau of John Stroud and Delilah Bryant. Possibly buried here.
Web page updated 13 May 2017
Index of All Cemeteries
Alphabetical Index of All Burials
Previous Page