Index of All Cemeteries
Alphabetical Index of All Burials
Previous Page
Use the following to search across all the cemeteries listed.
Example: "Smith, Roger" (yes, use the quotes)
234 UNIDENTIFIED CEMETERY - OFF WILKERSON RD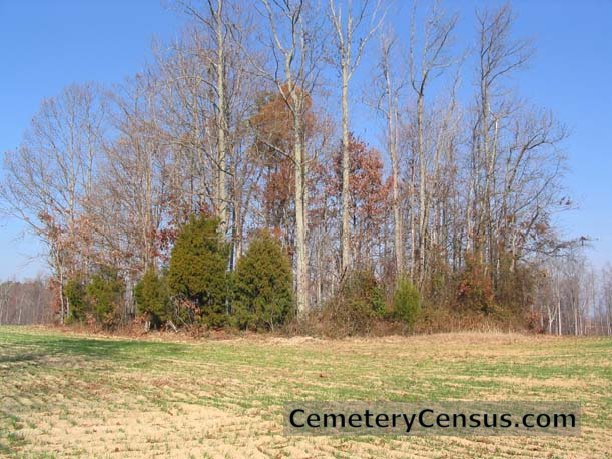 Location - In Cedar Grove Township west of Wilkerson Rd (SR #1507) in a grove of trees in a farm field. Private property.

Coordinates: 36d 14m 05.9s N; 79d 07m 20.0s W Click here for Google maps

Survey - Margaret Jones of the Orange County Environment and Resource Conservation Department and Milton Forsyth surveyed this cemetery 11 Dec 2007 with the permission of the landowner. The cemetery was brought to the attention of the survey by Mr. David N. Terry, whose family has farmed in this area for several generations.

Graves - There is one gravestone and possibly 50 other graves marked by fieldstones and/or depressions.

Comments - Mr. Terry noted in the 1900 census the person of the same name as that on the gravestone: Espran (or Espand) Hester, Black female, born May 1850, wife of Iverson Hester, with 7 children. Residents of the area believe this was an old cemetery for slaves and later for freed blacks and their descendants. Mr. Terry noted the land is still and has within historical memory been referred to as "The Golleywho Place." The origin of the name is obscure, but he suggests that the name was originally "Golley" and the "who" was added on at some point.


Hester, Espand (Espran) (b. May 1850 - d. 21 Nov 1907)
Wife of Iverson Hester. [See 1900 Census, Orange Co, NC, Cedar Grove Twp, p. 162, family 302]. Inscription: "At Rest." Footstone.
Web page updated 13 May 2017
Index of All Cemeteries
Alphabetical Index of All Burials
Previous Page