Index of All Cemeteries
Alphabetical Index of All Burials
Previous Page
Use the following to search across all the cemeteries listed.
Example: "Smith, Roger" (yes, use the quotes)
232 CATHOLIC CEMETERY [OLD GRAVEYARD]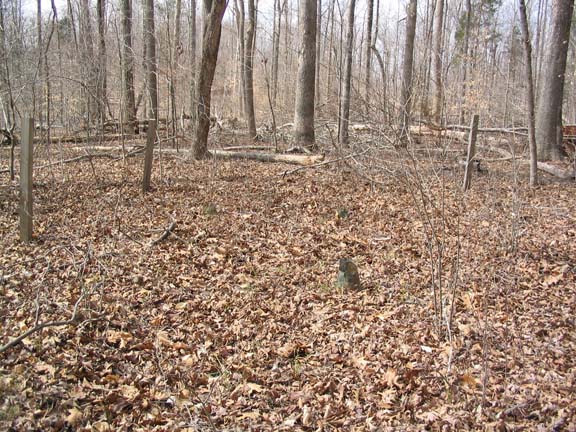 Location - In Eno Township 100 ft. north of Jack Franklin Rd (a private single-lane road) about 0.65 mi. east of Lawrence Rd (SR #1561). Private property.

Coordinates: 36d 04m 53.9s N; 79d 02m 55.2s W Click here for Google maps

Survey - Margaret Jones of the Orange County Environment & Resource Conservation Department and Milton Forsyth surveyed and photographed the cemetery on 1 Mar 2006 accompanied by Mr. Roy M. Petty, the landowner.

Graves - There are no burials listed for this cemetery.

Status - An area of about 37 ft. N-S and 30 ft E-W is enclosed by a wire fence broken in places. When and by whom the fence was erected was not determined. There appear to be three rows totaling perhaps 15 fieldstone-marked graves with no other markings. The cemetery is in a wooded setting and is not maintained, but was not overgrown.

Comments - This cemetery has an interesting history. On 1 Apr 1879 John C. Blake of Hillsborough deeded "15 acres m/l" to the Roman Catholic Diocese of Richmond, J. J. Keane, Bishop, stating in the deed "that a suitable building may be erected thereon for the worship of Almighty God to be used by the Congregation there attending & Worshiping..." [OC Deed Book 46, p. 55]. But on 14 Nov 1881 Mr. Blake sold this property, now established as "17 acres m/l," to William F. Strayhorn for $125. This deed indicated a cemetery had been established: "excepting half an acre now used as a Catholic Cemetery and reserved for that purpose with the right-of-way to and from it" [OC DB 47:356]. It seems the Richmond Diocese returned the property to Blake. As William F. Powers notes in his study of the Catholic Church in North Carolina: Bishop J. J. Keane served from 1878 to 1882 in Richmond and "devoted scant attention to what for him was little more than a mission outpost," i. e., North Carolina, which in the 1880s had "fewer than 2,500 Catholics and only a dozen priests." [See William F. Powers, Tar Heel Catholics: A History of Catholicism in North Carolina, (Lanham, MD: University Press of America, 2003), pp. 202, 207; quoted by permission of the author].

The 16.92 acre property on which the cemetery sits passed intact with the cemetery exempted in the deeds through a number of owners over the years [DB 48:242, 3 Jan 1885; DB 64:404, 15 Dec 1911; DB 73:29, 5 Jul 1917; DB 86:8, 20 Oct 1924; DB 105:478, 6 Jul 1937; DB 113:133, 4 Jan 1941] until on 28 Nov 1945 it was acquired by Mr. E. E. Petty, who had landownings adjacent to it [DB 122:378]. A small portion south of what became Jack Franklin Road was subsequently sold to M. H. Franklin [DB 125:145, 16 Sep 1946]. In a family land division the remaining portion of the 16.92 acres, which includes the cemetery, was combined with land distributed to the children of E. E. Petty, in which family it resides today. The cemetery was not mentioned in this deed [DB 135:195, 31 Oct 1950].

Also interesting from the deeds is that the NW corner of the 16.92 acre property was located at a "small sycamore at Berry's Ford" which was the river crossing point of the road that ran past Berry's Public Mill, which sat on the north bank of the Eno River. This sycamore was 10.5 chains - 693 ft - along the river bank east of the "East End of Dam" at the mill. The road and mill locations have apparently by this time disappeared. [Research by Milton Forsyth].


Web page updated 13 May 2017
Index of All Cemeteries
Alphabetical Index of All Burials
Previous Page