Index of All Cemeteries
Alphabetical Index of All Burials
Previous Page
Use the following to search across all the cemeteries listed.
Example: "Smith, Roger" (yes, use the quotes)
231 DAYE FAMILY CEMETERY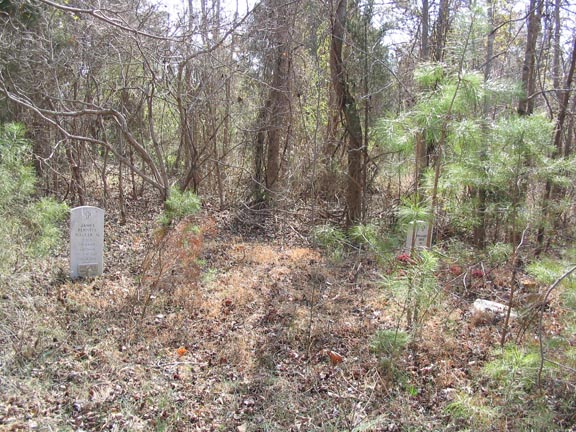 Location - In Hillsborough Township NW of Durham off Faucette Mill Rd (SR #1328) just to the SE of 619 Faucette Mill Rd, in a wooded lot on the north side of the road. Private property.

Coordinates: 36d 05m 36.6s N; 79d 07m 07.1s W Click here for Google maps

Survey - Margaret Jones of the Orange County Environment & Resource Conservation Department and Milton Forsyth surveyed and photographed the cemetery on 1 Mar 2006 at the invitation of Mrs. Mary C. Daye Davis Stevens, a family descendant and owner of the cemetery property.

Graves, Marked - Six marked graves.

Graves, Unmarked - There are about 7 apparent graves with no markers except fallen or broken stones, fieldstones or depressions. A large stone monument with no markings is in the NW corner of the cemetery area. There are several fallen stones that were not viewable, including one large concrete marker, and one gravestone stub. Mrs. Stevens said past generations of family are buried in the cemetery going back to Charles Daye and his wife Sallie Jones.

Status - This old family cemetery consisting of some 13 visible graves in the NW corner of the 0.36 acre keystone-shaped lot is overgrown and unattended. There is an extensive periwinkle-covered area to the east of the visible marker area with numerous scattered stones, some of which may represent fieldstone burial markers. The cemetery has a power line clearing to its south and is adjacent on the north to a very old road bed, the original Mason Hall/Faucette Mill Road route. The cemetery lot (0.3577 acres) was set aside by Mrs. Stevens in a deed of 19 Mar 1987 for the "Heirs of Charles Daye" [OC DB 675:115-117; OC PIN 9865-42-8837].

Comments - Charles Daye (also written "Day") and Sallie Jones married at the Freedman's School House on 17 Sep 1868 [OC Marriages Bk 1:41-42; US Census NC 1870 Town of Hillsboro, M593, Reel 1153, p 256, ln 20]. He purchased some 8 acres on the south side of Mason Hall Road, which became Faucette Mill Rd, in two transactions: 3 Oct 1879 and 31 Dec 1885 [Orange County Deed Books 46:230 and 50:452; the property description appears identical, which is not explained by research]. This probably represents the 7 1/3 acre property that is referred to in a mortgage in 1900 as "the Charles Day(e) place" [O. C. Deeds of Trust 29:522, 27 Dec 1900] and in later deeds as "the Charlie Day(e) Tract." Charles and Sallie Daye had 10 children: Ella, b. Jul 1872, who married Ben Latta (see burial); Charles H., b. 1874; Nancy, b. 1876; Alonza, b. 1878; William H., b. Dec 1880, who married Cora ---- (see burial); Julius W., b. Feb 1883; Maggie, b. Dec 1887, who married 25 Dec 1920, William Emerson; Mamie, birthdate unknown; and two other children, names unknown [for the family, see US Census NC 1880, ED 190, sh 24, ln 33, fam 239; US Census NC 1900, ED 69, sh 13, ln 56, fam 91; US Census NC 1910 ED 139, sh 25, ln 48, fam 472 (and fam 471 for Latta family) and OC DB 76:222, 30 Aug 1919 and OC Marriages]. [Information from Mrs. Mary C. Daye Davis Stevens with additional research by Milton Forsyth].


Daye, Charles (b. 1841 - d. 1901-1909)
According to his marriage certificate, the son of Levi Mendenhall and Nisa Day.

Daye, Hilliard (b. 25 Jul 1911 - d. 3 Apr 2001)
"PFC, US Army, World War II". Son of William H. and Cora Daye.

Daye, Sallie C. (b. Mar 1849 - d. 12 Feb 1933)
Wife of Charles Daye; according to death record the dau. of Jim and Nancy Hall of Orange Co., and on her marriage certificate named "Sally Jones" and the daughter of Damon Jones and Nancy Hall [OC Death Record D17-222. The age of 88 on the death certificate is not consistent with previous census ages, which indicate age about 84].

Daye, Sally (b. - d. )
Mrs. Stevens' mother is buried in a grave, now unmarked, between Hilliard Daye and James P. Walker.

Daye, William Hunter (b. ? 1876 - d. 20 May 1959)
Metal marker. Son of Charles and Sallie Daye; the census of 1880 and 1900 suggests he was born in Dec 1880. [Durham Co. Death Record 1959-619]

Latta, Ben (b. 1880 - d. 18 Oct 1940)
Husband of Ella Day(e) Latta; son of Noah Latta [Durham Co. Death Record 1940-806]

Latta, Ella Day(e) (b. Jul 1872 - d. 1960)
Wife of Ben Latta. Mrs. Stevens says that she was not in fact buried here, but in NY state.

Snipes, Lillian (b. 1896 - d. 1938)
Possibly the dau of Ella Day(e) Latta.

Walker, James Pernell, Jr. (b. 17 Nov 1947 - d. 8 Aug 1996)
"S SGT, US Army, Vietnam". Son of Mary C. Daye Stevens.
Web page updated 13 May 2017
Index of All Cemeteries
Alphabetical Index of All Burials
Previous Page