Index of All Cemeteries
Alphabetical Index of All Burials
Previous Page
Use the following to search across all the cemeteries listed.
Example: "Smith, Roger" (yes, use the quotes)
230 UNIDENTIFIED CEMETERY - FORMERLY ARCHER/BURNETTE PROPERTY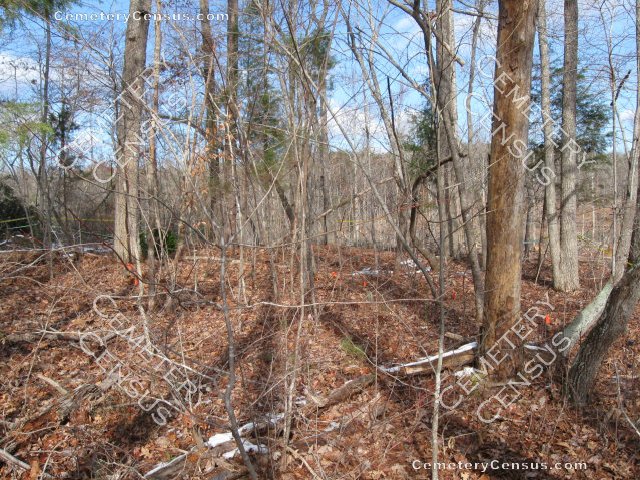 Location - In Cheeks Township in a wooded area east of Chestnut Ridge Church Rd (SR #1125) and east of the Chestnut Ridge United Methodist Church cemetery. On private property.

Coordinates: 36d 02m 11.3s N; 79d 10m 43.4s W Click here for Google maps

Survey - Visited by Tom Magnuson, Milton Forsyth, Margaret Jones of the Orange County GIS Department and NC Forest Service Ranger Jake Pressley on 6 Dec 2010. The area around the cemetery was being logged at the time of this survey.

Graves - Some 28 graves in three rows marked by fieldstones and/or depressions. No identifiable markings were seen on the stones.

Comments - The property was formerly owned by Stephen Archer and was sold to Adolphus D. Burnette on 2 May 1896 [OC DB 54:299]. This appears to be the cemetery that was formerly described in the survey as being the "Burnette (Barnet?) Family Cemetery" and located: "1/2 mile from Chestnut Ridge Methodist Church, near Efland NC. Across road from church 1/2 mile from road and has chain across it." No burials were listed then, and it is not certain who might be buried here. Tom Magnuson had also found a place a short distance west of this area on another lot were it appeared there might have been six graves, or at least grave-like mounds partially covered by stones. However this was not confirmed to be a burial location, and research showed that that land had not been owned by the Burnette family.


Web page updated 13 May 2017
Index of All Cemeteries
Alphabetical Index of All Burials
Previous Page