Index of All Cemeteries
Alphabetical Index of All Burials
Previous Page
Use the following to search across all the cemeteries listed.
Example: "Smith, Roger" (yes, use the quotes)
227 UNIDENTIFIED CEMETERY - SILVER FOX LANE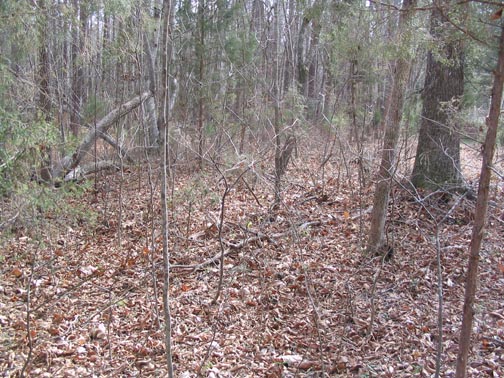 Location - In Northern Bingham Township off Silver Fox Lane (SR #1246), which runs eastward off Buckhorn Rd (SR #1114) just south of the intersection with Chestnut Ridge Rd (SR #1125). About 100 ft south of the road, surrounded by private property.

Coordinates: 36d 00m 11.7s N; 79d 12m 13.4s W Click here for Google maps

Survey - Milton Forsyth surveyed this cemetery 4 Jan 2007 assisted by a local resident, Katherine Williams. He was alerted to its existence by Mr. Jim Hopper, developer of the subdivision, who set the cemetery off as a plot. Photo by Milton Forsyth.

Graves - A small unattended cemetery in a wooded area with perhaps 5-10 graves marked only by fieldstones. Origin of the cemetery is unknown.


Web page updated 13 May 2017
Index of All Cemeteries
Alphabetical Index of All Burials
Previous Page