Index of All Cemeteries
Alphabetical Index of All Burials
Previous Page
Use the following to search across all the cemeteries listed.
Example: "Smith, Roger" (yes, use the quotes)
224 PRATT FAMILY CEMETERY (c.1830)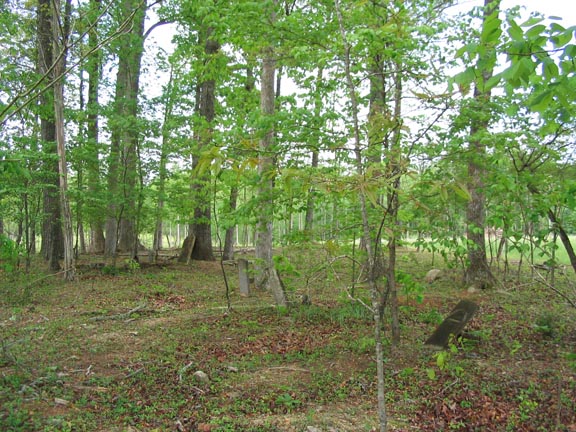 Location - In Northeast Chapel Hill Township west of Mt. Hermon Church Rd (SR #1713), off New Leaf Lane, a private road, on an equestrian center. Private property, but visiting is permitted by checking at the main stables.

Coordinates: 36d 01m 23.0s N; 79d 01m 28.4s W Click here for Google maps

Survey - Margaret Jones of the Orange County Environment and Resource Conservation Department and Milton Forsyth surveyed this cemetery on 9 May 2007 accompanied by Mr. Darrell Wilson Garrett, who brought the cemetery to the attention of the survey.

Graves, marked - There are 8 marked graves.

Graves, unmarked - Some 27 graves were identified only by fieldstones and/or depressions.

Comments - This cemetery has been preserved by Ole and Christy Strigel, the new landowners and developers of the DK-USA Sporthorse Equestrian Center (est. 2002). The cemetery covers some 135 ft N-S by 90 ft. E-W in a wooded area left during land clearing for pastures; there is periwinkle but the ground is not otherwise covered by heavy vegetation.

The cemetery was noted in the distribution of the 490-acre home property of Loftin K. Pratt in 1851 in accordance with his will. Lot 1 was distributed to Nancy Pratt, the testator's widow "out of which a separation was divided to be made of one acre around the Grave Yard." (See Orange Co. Deeds Bk 34, p 47 - a diagram is included, but the cemetery location is not indicated).

Homer Tapp, a member of the Durham-Orange Genealogical Society and a descendant of the Pratt family through Mary Ann Pratt Tapp, noted that the Pratt homestead was in the vicinity of the bend in Mt. Hermon Church Road. According to the deed the Pratt property lay along or on both sides of an old road known as the "Hillsboro Road." Mr. Garrett, who was familiar with the property prior to its development, said that some identifiable portions of an old road still remain.


Brock, Mettie L. (b. 31 Oct 1867 - d. 18 Nov 1889)
Wife of Jno. O. Brock; Aged 22 yrs, 18 dys. Footstone: M. L. B. Gravestone broken and fallen; footstone fallen. Dau of William A. Strayhorn and Caroline Pratt.

Brock, Victor A. (b. 16 Nov 1888 - d. 24 Aug 1889)
Son of Jno. O. & M. L. Brock. Aged 9 mos, 8 dys. Inscription: Suffer little children to come unto me. Footstone: V. A. B. Gravestone and footstone fallen.

Freeland, Frances M. Pratt (b. 6 Dec 1830 - d. 4 May 1859)
Wife of W. J. Freeland. Inscription: Submission to thy will Oh God, I will in thee resign. Married 10 Apr 1856, William Johnston Freeland, left one young son, William L. Freeland, enumerated in 1870 census age 12 in household of Ann (Nancy) Pratt, who would have been his grandmother, and in 1880 census age 23 in household of William A. and Caroline Pratt Strayhorn, identified as "nephew.". (See Shirley J. Mallard, Death and Marriage Notices from the Hillsborough Recorder, 1997, pp. 220, 253).

Pratt, Ann (Nancy) Burroughs (b. Abt 1799 - d. 23 Jul 1877)
Wife of Loftin K. Pratt, m. by bond 13 Dec 1824. Probably buried here. (See Shirley J. Mallard, Death and Marriage Notices from the Hillsborough Recorder, 1997, pp. 373).

Pratt, James T. (b. 14 Aug 1828 - d. 3 Jun 1850)
Son of Loftin K. and Ann (Nancy) Pratt. Inscription: My flesh shall rest in hope.

Pratt, Loftin K. (b. 21 Nov 1800 - d. 15 Aug 1846)
Husband of Ann (Nancy) Burroughs. Masonic Symbol. Inscription: His trust was in God, his faith well founded. Footstone: L. K. P. Children: Mary Ann, m. Ruffin R. Tapp; Frances M. (buried here), Caroline E., m. William A. Strayhorn; Martha J. (probably the Martha Jane Pratt who m. David Strayhorn, 1855), James T. (buried here). (See Shirley J. Mallard, Death and Marriage Notices from the Hillsborough Recorder, 1997, pp. 135, 161).

Pratt, Margaret E. (b. 1 Feb 1832 - d. 22 Feb 1832)
Aged 21 Days. Gravestone fallen. Footstone: M. E. P. fallen

Pratt, William N. (b. 13 Dec 1794 - d. 17 Jun 1866)
Masonic Symbol. Footstone: W. N. P. fallen. Low sunken brick wall around grave, possibly a second grave within the wall. Census records show him to have had substantial assets; deed records show he was the owner of a number of parcels of land in the county.

Sharpe, Maurice H. (b. Abt 1823 - d. 14 Dec 1861)
Old Confederate Marker: "Co D, 1 NC Inf, C. S. A." Enlisted 1 Aug 1861, age 37, died 14 Dec 1861 in Fredericksburg, VA Hospital. Maurice (also written "Morris") Sharpe named on list of New Hope Presbyterian Church members killed in the Civil War. Married Ellen Crabtree by bond dtd 29 Jan 1854; Children (from census): Walter (c.1854), Milton (c.1856), John (c.1857 or 1859), William (1861). Walter, Milton, perhaps John (2 Dec 1859 - 29 Apr 1942), and probably William (1 Oct 1861 - 13 Feb 1924) buried New Hope Presbyterian Church New Cemetery (#051). Ellen m. (2), 9 Jun 1864, Eton (Eaton) Walker, both buried New Hope Cem. Sharpe family member consistently in census is Elizabeth (Betsy), probably his mother, who may be the Bessie Sharpe buried in New Hope Cem. His connection to Pratt family was not determined.
Web page updated 13 May 2017
Index of All Cemeteries
Alphabetical Index of All Burials
Previous Page