Index of All Cemeteries
Alphabetical Index of All Burials
Previous Page
Use the following to search across all the cemeteries listed.
Example: "Smith, Roger" (yes, use the quotes)
220 CAMPBELL FAMILY CEMETERY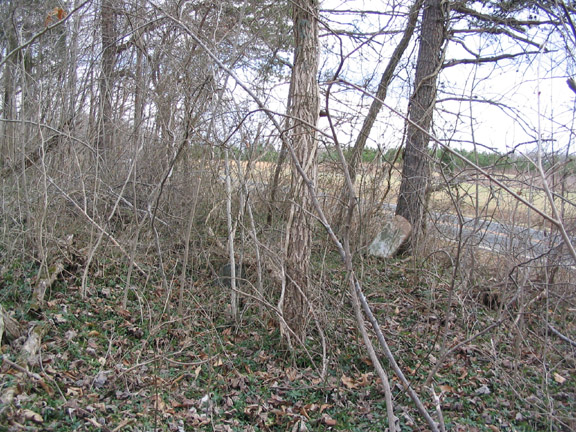 Location - In SW Cedar Grove Township on the north side of Harmony Church Road (SR #1350) .1 mi east of Back Creek, on the verge of the road across from 7812 Harmony Church Road.

Coordinates: 36d 10m 15.0s N; 79d 13m 48.0s W Click here for Google maps

Survey - This cemetery was surveyed by M. C. Engstrom, Mr. W. Tate and David Tate on September 13, 1976. Visited and photographed by Milton Forsyth in February 2005. He also clarified the location directions.

Graves, Marked [1976] - Only 3 marked stones remain. Local residents say some stones were carried away to make walks and patios.

Status [2005] - The same three stones were still present. The area is heavily overgrown with periwinkle with some areas of briars and vines. There are several fallen limbs and trees. A deep road depression lies on the north side of the cemetery area.


Campbell, Celia (b. - d. )
Hicks, Mary C. (b. 28 Jul 1797 - d. 17 Aug 1821)
S----, E. F. (b. - d. )
Web page updated 13 May 2017
Index of All Cemeteries
Alphabetical Index of All Burials
Previous Page