Index of All Cemeteries
Alphabetical Index of All Burials
Previous Page
Use the following to search across all the cemeteries listed.
Example: "Smith, Roger" (yes, use the quotes)
219 BIVINS FAMILY CEMETERY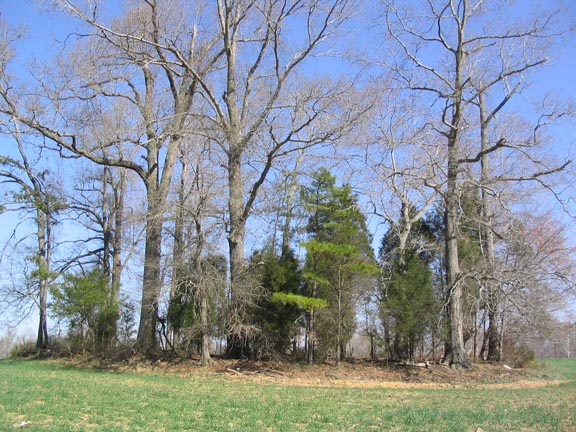 Location - In Bingham Township on a farm at 4006 NC Route 54 West, 0.45 mi. SW of the highway in a field with access via a rough farm road. Private property.

Coordinates: 35d 55m 07.8s N; 79d 11m 56.9s W Click here for Google maps

Survey - Mary Claire Engstrom and Mr. and Mrs. Shelton Ray surveyed this cemetery on October 4, 1976. Milton Forsyth visited the site on 3 Mar 2006 through the courtesy of Mr. Shelton L. Ray, the landowner, and provided an update and photographs. See 1976 notes.

Graves - The cemetery is about 85 ft. in diameter on a wooded rise in the field. There are perhaps 25 graves in 5 or 6 rows with some deep depressions; white quartz stones and softer soapstone mark some of the graves. College initiation ceremonies here one night in the 1970s displaced the 3 Bivins tombstones.


Bivins, Jehu (b. 20 Jul 1851 - d. 22 Oct 1856)
Bivins, Joanna (b. 8 Feb 1816 - d. 12 Sep 1847)
Bivins, William A (b. 4 May 1844 - d. 18 Jan 1845)
An unexplained engraving is on the top of this stone [Photo].
Web page updated 13 May 2017
Index of All Cemeteries
Alphabetical Index of All Burials
Previous Page