Index of All Cemeteries
Alphabetical Index of All Burials
Previous Page
Use the following to search across all the cemeteries listed.
Example: "Smith, Roger" (yes, use the quotes)
217 BETHANY HILL MISSIONARY BAPTIST CHURCH CEMETERY - BLACK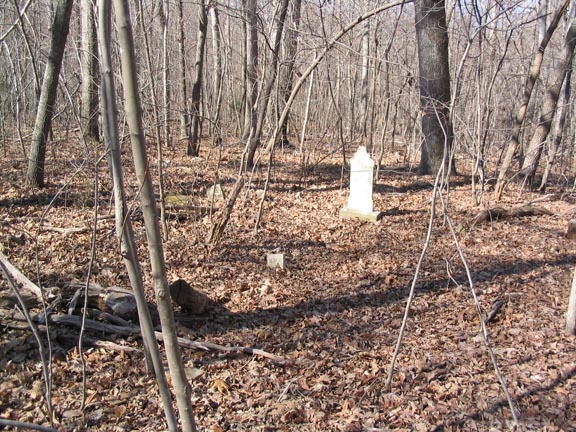 Location - In northern Chapel Hill Township near the Hillsborough Township line at the end of Fletcher Rd./Ourso Dr. (private roads) behind a residence and also to the rear of a new lot of the "Waterstone" development which abuts the older Fletcher Rd./Ourso Dr. properties on the south and west. Access only across private property.

Coordinates: 36d 02m 32.9s N; 79d 05m 27.8s W Click here for Google maps

Survey - This cemetery was surveyed on August 8, 1977. Margaret Jones of the Orange County Environment & Resource Conservation Department and Milton Forsyth visited and photographed the cemetery on 15 Mar 2006 through the courtesy of the resident whose home borders the cemetery.

Graves, Marked - In 1977 there were 3 marked graves and 3 fading (metal?) funeral markers. In 2006 the stone inscribed "J. H." was not found and the markers were not seen, but death records are on file in Orange Co. for these 3 persons as well as for Harvey W. Clark.

Graves, Unmarked - There are a undetermined number of depressions and/or fieldstones indicating burials.

Status - This cemetery, established probably in the 1880s, is abandoned and unattended and overgrown with trees. In 1977 it was thought to be some 200 ft. by 250 ft. in size. A low stone wall is still partially evident on the south and east sides, and the terrain slopes downward to the SW. There was an old road, still visible on 2003 aerial photography, that ran south from what is now the prison camp/Department of Transportation area near Hillsborough and the church stood along this road. The church is shown on George W. Tate's 1891 Map of Orange County. The building was destroyed by fire years ago. The cemetery is some 200 ft. NE of the old road. A note records that it was "perhaps called the Joppa-Clark Cemetery locally" referring to several of the families buried there. Harvey Clark, buried here, was a leading member of the church and the ancestor of persons buried in the Clark Family Cemetery (#250). A schoolhouse, called "Harvey Clark's Schoolhouse," once stood near the cemetery and church.


Bradshaw, Bettie (b. 27 May 1876 - d. 14 Feb 1918)

Clark, Harvey W (b. 18 Apr 1844 - d. 27 Jun 1929)

H----, J---- (b. - d. )

Holt, Lillian (b. - d. 23 Jan 1945)

Holt, Seymore (b. - d. 14 Feb 1946)

White, Maggie (b. - d. 15 Dec 1944)
Web page updated 13 May 2017
Index of All Cemeteries
Alphabetical Index of All Burials
Previous Page