Index of All Cemeteries
Alphabetical Index of All Burials
Previous Page
Use the following to search across all the cemeteries listed.
Example: "Smith, Roger" (yes, use the quotes)
216 UNIDENTIFIED CEMETERY - FORMER MCADAMS PROPERTY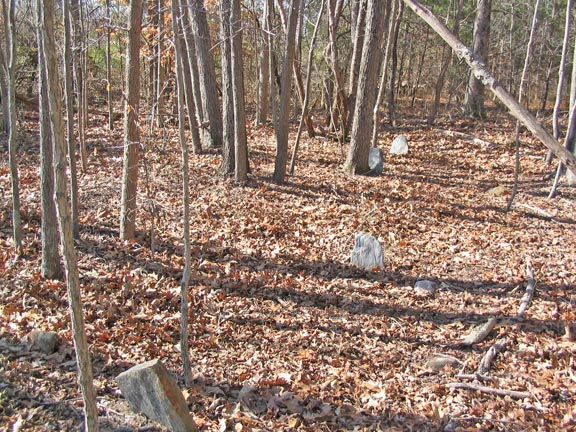 Location - In Cheeks Township west of Efland-Cedar Grove Road (SR #1004) on the entrance road to the "McGowan Creek" development (new in 2005), about 30 feet north of the road some 150 ft west of the highway. The development is about 1 mile north of US 70.

Coordinates: 36d 05m 29.8s N; 79d 10m 34.7s W Click here for Google maps

Survey - Margaret Jones of the Orange County Environment & Resource Conservation Department and Milton Forsyth surveyed the site on January 26, 2006 and provided photographs.

Graves - There appeared to be about 9 graves marked by fieldstones, one with an "S" and a long horizontal mark apparently inscribed into the stone with a marking compass [SEE STONE]. There were possibly other graves not well enough marked to make out, and no visible depressions.

Status - This cemetery is on property purchased in about 1884-86 by David Carl McAdams and sold by his descendants in 2005. Family tradition is that there was an abandoned log church possibly named "Green Level Church" next to the cemetery that Mr. McAdams used the logs from for another building. A portion of the property purchased by Mr. McAdams in this time frame was from the estate of Calvin Smith, so it is not impossible that some Smith family were buried here and the "S" carved into the fieldstone represents one of these (see Orange Co. DB 48:105, 3 Apr 1884 and DB 50:448, 2 Jan 1886, for the two purchases by Mr. McAdams in this time period; his next recorded purchase was in 1891). The cemetery is approximately 87 ft x 87 ft and is enclosed on the north and west sides and partially along the south side by a dirt mound. Several large oak trees still stand, an especially old one just outside the east end of the cemetery. The site is shown on the housing development plan.


Web page updated 13 May 2017
Index of All Cemeteries
Alphabetical Index of All Burials
Previous Page