Index of All Cemeteries
Alphabetical Index of All Burials
Previous Page
Use the following to search across all the cemeteries listed.
Example: "Smith, Roger" (yes, use the quotes)
215 WHITTED FAMILY CEMETERY [WHITTED-GRADY-OBIE CEM.] - BLACK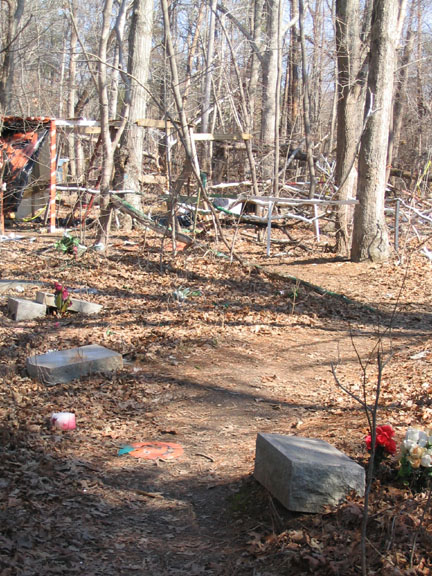 Location - In Hillsborough Township just NW of Hillsborough. The Whitted Cemetery is in a woodland to what was the rear of the former location of 'The Old Whitted House.' In 2005 it was some 50 ft off the NE corner of the Whitted Forest Apartments on Holiday Park Road, which runs north from Hwy US 70 Bypass. It is adjacent on the SE to the Vincents Family Cemetery (#209). Private property. The cemetery is in the Orange County GIS system as PIN 9865-50-5932.

Coordinates: 36d 05m 17.2s N; 79d 06m 59.1s W Click here for Google maps

This cemetery is also known as the Whitted-Grady-Obie Families cemetery.

Survey - This cemetery was surveyed on December 6, 1974. Milton Forsyth visited the site and made a few photographs in February 2005, and revised the location directions.

Graves, Marked - There were 20 graves marked.

Graves, Unmarked - There were 23 unmarked graves.

Status [1974] - The unfenced cemetery of seven rows is unkempt, although it appears to be cleaned at intervals. There are rough stones and blank funeral markers. Mr. Clyde W. Whitted, Sr. of Hillsborough has supplied the identifications for 10 of these names. The earliest marked grave is that of Baby --ell, R. Obie, d. 1933.

Status Update [2005] - This cemetery has been vandalized and desecrated, apparently by the residents of the apartment complex. It appeared to have been used in 2004 for a Halloween Ghost House (note photo view). It was difficult to make out any order in the grave locations. Newer burials were noted in the cemetery.


Carr, Albert Leroy, Sr. (b. 1957 - d. 2000)

Dixon, Charlie (b. - d. )

Grady, Annie J (Miss) (b. - d. 2 Feb 1973)

Grady, Baby (b. - d. )
(Child of James Daniel Grady)

Grady, Darrell James (b. 1963 - d. 1994)

Grady, Eddie F (b. - d. )

Grady, Gloria Mae (b. 1943 - d. 2001)

Grady, James Daniel (b. - d. 23 Jun 1944)

Grady, Mary T. (b. - d. )

Grady, Taylor (b. - d. )

Latta, Dora R. (b. 31 Oct 1885 - d. 6 Jul 1960)
Wife (of Joseph F. Latta) and Mother. Footstone: D.R.L. (stone fallen)

Latta, Elizabeth (b. - d. )

Latta, Hubert O. (b. 29 Jul 1909 - d. 3 Oct 1980)

Latta, Irvin (b. - d. )

Latta, Joseph F. (b. 27 Nov 1879 - d. 20 Jan 1949)
"Beloved Husband and Father". "In Thee O Lord do I put my trust. Psalm 31:1". Footstone: J.F.L.

Latta, Nancy D. Marie (b. 20 Aug 1936 - d. 11 Feb 1937)
"At Rest". Footstone: N.D.M.l.

Obie, --Ell R. (Baby) (b. 22 Apr 1928 - d. 11 Feb 1933)

Obie, Annie (b. - d. )

Pratt, Earl Camon (Cameron?) (Miss) (b. - d. Mar 1967)

Robinson, Hettie Ella Whitted (Mrs) (b. - d. 30 Jul 1967)

Whitted, Alice (b. - d. )

Whitted, Alvis (b. - d. )

Whitted, Alvis M. (Rev) (b. - d. 21 Jul 1958)
Aged 79 Yrs. 3 Mos. 17 Ds.

Whitted, Marie (b. - d. )
Web page updated 13 May 2017
Index of All Cemeteries
Alphabetical Index of All Burials
Previous Page