Index of All Cemeteries
Alphabetical Index of All Burials
Previous Page
Use the following to search across all the cemeteries listed.
Example: "Smith, Roger" (yes, use the quotes)
214 WHITTED, WILLIAM, JR. FAMILY CEMETERY (CA. 1821)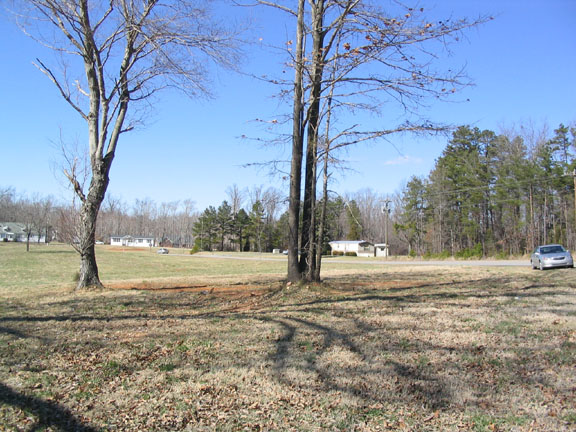 Location - In Eno Township, off St. Mary's Road (SR #1002), 0.1 mi. south on Dumont Drive, on the right hand (west) side of the road where the road curves to the southwest. There is today no indication of a cemetery on the site. The view is looking north, with Dumont Drive on the right hand side of the photograph.

Coordinates: 36d 05m 54.7s N; 79d 02m 39.6s W Click here for Google maps

Survey - This cemetery was surveyed by Mr. and Mrs. A. G. Engstrom and B. B. Doak on October 18, 1973. Milton Forsyth visited and photographed the site on March 2, 2005 with direction assistance from Mr. Charlie Thompson, a long-time resident of the area. There are two plats of the cemetery from 1973, one a final plat and one apparently a working plat.

Graves, Marked - There were 11 marked graves.

Graves, Unmarked - There were 41 unmarked graves.

Comment - See the note under entry 'W----, L' in the burials listing for information on the Whitted family.

Status [1973] - "A wooded area surrounds rock-walled cemetery and there appear to be at least a score of graves outside the crumbling walls on all sides. Cemetery is so badly deteriorated that it is almost beyond survey. Rock walls have fallen. Trees have pushed walls and tombstones out of position. The whole is covered with brambles and rose canes. Developer tossed trees in the area when clearing Bluffs-of-Eno Road. Unless salvage work is done, cemetery probably cannot be surveyed again. 4 rows of graves (36 or more) inside wall; 1 Row visible on west side outside wall; several rows on southern side. Bluffs-of-Eno Road may have destroyed a few graves on eastern side".

Status Update [2005] - This cemetery has been destroyed. Mr. Thompson said the area had become so overgrown and a hazard to children in the area that it was cleared many years ago. Milton Forsyth noted one flat stone buried on the site which turned out to be a remnant of the gravestone of a child, Irene McKerall, who was listed on the 1973 burials.


C----, L (b. - d. )

Cole, Rebecah (b. 7 Jan 1789 - d. 2 Jan 1826)
(Year of birth is questionable).

Letter from Hugh Conway Browning to Mrs. A. G. Engstrom dated 18 Feb 1975:
In your recent item of information you state that you have located the pieces of a broken tombstone under several inches of soil near the west wall of the old Whitted cemetery, with the following inscription: Rebecah Cole was born January the 8, 178(9?): Died January 2, 1826. I do not have any information regarding this deceased lady. A review of the Orange County marriage records from 1778 to 1869, did not disclose any Cole groom with a bride Rebeccah.

A deed dated September 8, 1827 - Daniel Lynch to William Lewis, trustee, recites: The said Daniel has this day purchased of John Horner a tract of land (39 acres) on the waters of Buck Quarter Creek, adjoining the lands of James Cole, John Cole, Burton'S heirs, Ephraim Brown and others. I know the general location of this tract of land, and know that it was located approximately 1 mile east-southeast of the Whitted Cemetery. I do not have any information on James and John Cole. Whether or not there was any connection between them and Rebeccah Cole, I do not know.

In a deed dated April 2, 1895. James D. Lewis, attorney for Margaret F. Crabtree, and other heirs of William Cole, deceased, the former Husband of said Margaret F. Crabtree, for a consideration of $41.50, conveyed to John W. McKerall A 13 1/2 acre tract of land. This deed was signed Margaret Crabtree, Jannett Saunders, W. C. Saunders, Jessie W. Cole, William Cole, by J. D. Lewis, attorney. In a deed dated April 18, 1895, John McKerall, and wife, for value received, conveyed the same tract of land - 13 1/2 acres - to Margaret Crabtree, W. A. Cole, Jessie W. Cole, W. C. Saunders and wife J. C. Saunders, all of the state of Tennessee. This 13 1/2 acre tract of land lay a short distance west-southwest of the Whitted cemetery. I do not know the reason for these 2 deeds, unless, perhaps in prior years McKerall had sold the 13 1/2 acre tract of land to William Cole, deed to be delivered after payments were completed, and was overlooked at the time the final payment was made. I do not have any information on William Cole and his family. The foregoing information indicates that members of the Cole family resided in the vicinity of the Whitted cemetery. Perhaps Rebeccah Cole was a member of one of these families.

Holden, Thomas (b. - d. )
(Note from M. C. Engstrom) 'Thomas Holden is said to have been buried in the Whitted Cemetery.'

McKerall, R. Irene (b. 10 Aug 1883 - d. 28 Sep 1884)

W----, H. G. (b. - d. )

W----, L. (b. - d. )
Footstone: L. W. (May Be Levi Whitted, Brother of William, Sr. - initials M. L. [?] Scratched Below L. W.)

the Following Notes Are From The Newspaper:
1. Levi Whitted (1765-18 Jul 1849) ['Recorder' 25 Jul 1849]
2. Mrs. Mary Whitted (??-13 Apr 1823) ['Recorder' 16 Apr 1823]
3. Mary Whitted (1816??-31 Dec 1836) ['Recorder' 27 Jan 1837]
4. Thomas Whitted (?5 Aug 1820) ['Recorder' 9 Aug 1820]
5. William Whitted Married Mrs. Elizabeth Wright On 7 Feb 1841 ['Recorder' 4 Mar 1841]

Whitted, Anna D. Faucett (b. - d. 30 Aug 1849)
Wife of Henry Whitted Aged 39 Yrs., 4 Mos., 17 Ds. (Stone Broken) Footstone: (blank)

Whitted, Anna J. (b. - d. 21 Mar 1840)
Daughter of Henry and Anna D Whitted Aged 28 Ds. Footstone: (Blank)

Whitted, Henry (b. 6 Mar 1805 - d. 24 Nov 1883)

Whitted, Mary (b. - d. 12 Apr 1823)
(Wife of William Whitted) '..who Departed This Life April 12th ____ In The _______...' (stone Broken)

Whitted, William (b. - d. 29 May 1853)
Son of Henry and Anna D. Whitted. Aged 7 Yrs., 10 Mos., 23 Ds.

Whitted, William (b. - d. 3 Nov 1821)
'Who Died In Hillsboro: Novr 3d 1821 In The 61st __ar of His Age.' Footstone: W.W.
Web page updated 13 May 2017
Index of All Cemeteries
Alphabetical Index of All Burials
Previous Page