Index of All Cemeteries
Alphabetical Index of All Burials
Previous Page
Use the following to search across all the cemeteries listed.
Example: "Smith, Roger" (yes, use the quotes)
211 WALKER, JOE FAMILY CEMETERY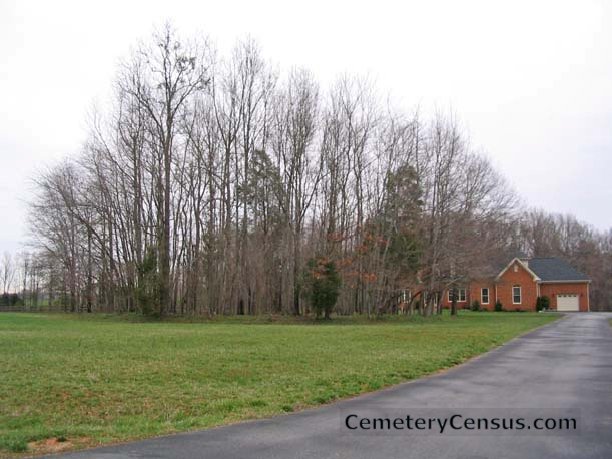 Location - At the northern border of Hillsborough Township off Phelps Road (SR #5051) 0.5 mi. west of Rte 57, 485 ft. south of the road in a housing development with a private road. Private property.

Coordinates: 36d 07m 50.7s N; 79d 05m 12.2s W Click here for Google maps

Survey - This cemetery was identified to the survey by Mr. James Latta in the 1970s as being on or across from the property of Mrs. Lessie Phipps, but was apparently not visited. Milton Forsyth surveyed this cemetery on 19 Jan 2007.

Graves - Three marked graves were identified.

Graves, Unmarked - The number of unmarked graves is not determined.

Comments - This oval, wooded cemetery covered with periwinkle was in a field and is now in the front yard of a residence. It is nicely maintained in a semi-natural state. The relationship of the cemetery to "Joe Walker" has not been determined.


Clark, Fannie V. (b. 1804 - d. 1864)
Day and month of birth and death not readable. Inscription: "Dau of Alvin and Lucy Clark"

Redding, Stephen P. (b. 27 Jun 1832 - d. 14 Dec 1832)
Inscription: "Was Born June 27th, 1832 Died Dcr. 14th Age 4 mo 18 dys"

Riley, John, Sr. (b. 1764 - d. 10 Jun 1852)
Inscription: "Erected in Memory of John Riley Senr, Died June 10 18?2, Age 88 yrs." [See Shirley J. Mallard, Death and Marriage Notices from the Hillsborough Recorder, 1997, p. 181, 23 Jun 1852: "Died - John Riley, 88, at his residence 5 miles north of Hillsborough 10th inst. Left an 'aged partner' and children." The 1850 Census shows him as age "80" with a wife Sally, 76, who is identified from records as Sally Redmond, daughter of Margaret Redmond (OC Deeds 33:552). She married John Riley by O. C. Marriage Bond dated 19 Jan 1793 (OC Marriages N-R 1139)].
Web page updated 13 May 2017
Index of All Cemeteries
Alphabetical Index of All Burials
Previous Page