Index of All Cemeteries
Alphabetical Index of All Burials
Previous Page
Use the following to search across all the cemeteries listed.
Example: "Smith, Roger" (yes, use the quotes)
208 STROWD/STROUD FAMILY CEMETERY - BLACK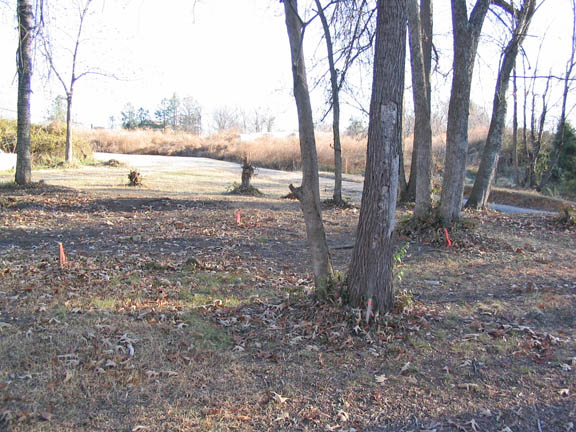 Location - In Carrboro off Guthrie Ave, a gravel road running south thru and beyond the site of the Ready Mixed Concrete Plant on Brewer Lane [2005].

Coordinates: 35d 54m 25.6s N; 79d 04m 01.0s W Click here for Google maps

Survey - Milton Forsyth photographed the cemetery site December 20, 2005. He was directed to the site by Mr. William P. Gattis, who resided nearby and compiled information on the local African-American community.

Graves - It is thought that at least 3 persons are buried on the site, and possibly more. The names are believed to be: Mama Strowd, Lou Strowd, and Callie Strowd. No death certificates are found in the Orange County records matching possible burials under these names at this site. A cemetery relocation firm was unable to find any information about the cemetery or burials there. Mr. Gattis continues to seek information on possible names and burials in this family cemetery.

Comments - Mr. Gattis was instrumental in 2004 in convincing the Carrboro Board of Aldermen to preserve this cemetery site, in an historically African-American neighborhood, which was threatened by construction of an apartment complex. (See The Chapel Hill News articles of Sunday, 4 Oct 2004, p. A1 and Sunday, 14 Nov 2004, p. A1, or the Raleigh News & Observer article, Tuesday, 16 Nov 2004, p. 1A). A plat of the entire site with the cemetery indicated is found in the Orange County Register of Deeds office - Reference: Southern Equipment Company, plat P90/173, and information is also in Deed Book 386, p. 51. In December 2005 only a small area of the platted cemetery, about 20 ft. square, was marked off as a gravesite, as shown in the view above (looking north) - see the stake closeup indicating "Prop Corn./Grave Site."


Web page updated 13 May 2017
Index of All Cemeteries
Alphabetical Index of All Burials
Previous Page