Index of All Cemeteries
Alphabetical Index of All Burials
Previous Page
Use the following to search across all the cemeteries listed.
Example: "Smith, Roger" (yes, use the quotes)
203 TILLEY, JAMES FAMILY MEMORIAL CEMETERY (CA. 1863)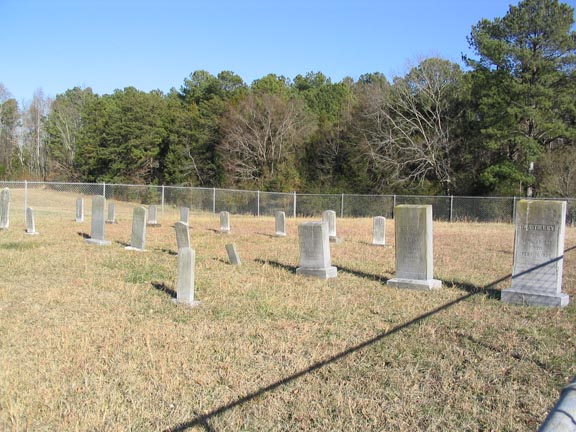 Location - From the intersection of highways NC 54 and Old Fayetteville Road (SR #1937) in Carrboro, proceed west for 1/2 mile. Turn right onto gravel road across from Lavinia Lane, the entrance to "The Shire" development. Follow the road as it winds about 2/10 mile toward the north; cemetery is visible to the left.

Coordinates: 35d 55m 25.5s N; 79d 06m 35.9s W Click here for Google maps

Survey - This cemetery was surveyed on February 23, 1973 by B. B. Doak. Milton Forsyth visited the cemetery in January 2005 and updated the directions. 1973 Plat of cemetery.

Graves, Marked - There were 18 marked graves.

Graves, Unmarked - There were 2 unmarked graves.

Comment - See the historical entry under 'Tilley, James'

Current Status - Very good condition. 4 rows of 18 marked stones and 2 unmarked stones; no footstones. Earliest burial: 1863.


Cheek, Julia (b. 1 Jul 1845 - d. 18 Mar 1886)
Infants of E G and Dora Lloyd
Daughter of J S Nevill Aged 6 Yrs., 23 Ds.
Son of J S Nevill Aged 16 Yrs., 3 Mos.
Son of J S Nevill. Aged 4 Yrs., 20 Ds.
Daughter of J S Nevill Aged 4 Yrs., 1 Mo., 10 Ds.
Wife of J S Neville 'In Memory of My Mother. J.m.n.'
Spouse - J S Tilley Aged 34 Yrs., 14 Ds.
Daughter of James Tilley Aged 33 Yrs., 5 Mos., 13 Ds.
Spouse - H A Tilley Aged 24 Yrs., 10 Mo., 8 Ds.
From a newspaper article [circa 1970s]:

Genealogy records a long line of area families ("Tilley: A Brief Historical Sketch of the Name and Family of the Tilleys", by Arthur Mangum Tilley, 53 pp.). This new genealogy by Arthur Mangum Tilley of Rt. 2, Rougemont, containing records of dozens of families related to the Tilley Clan of the Durham Area, completes a project begun by his sister, Mary Ethel Tilley, who died in 1968. In the forward the author says he obtained information from a number of persons from Durham, Bahama, Chapel Hill, Oxford, Rougemont, Yanceyville, Kittrell, and Knapp of Reeds, all of whom are mentioned. Although he has listed references, the author makes no attempt to document individual citations in the book. Some of the information came from research done by Ben Patrick Moore, formerly of Bahama. The author traces the derivative of the Tilley name back to its European origin in the French Norman village of Tilly. Over 40 pages of the book, a paperback, are consigned, in effect, to little more than listing vital statistics of Durham and Granville Tilleys and related families - Gorham, Webb, Peed, Bullock, Roberts, Ray, Veasey, Clayton, Bowling Roycroft, Hall, Bowman, Ledford, Lloyd, Smith, Allen, Lameth, Currin, Greer, Green, Ferrell, Wheeler, Gray, Latta, Bowen, Laws, Lawson, Malone, Carver, Critchner, Clark, Day, Jones, Parrott, Wilkins, Hicks, Huff, Averette, Morris, Moore, Franklin, Starr, Ellis, Tippett, Carrington, Chambers, Copley, Ball, Parrish and several others. The book may be purchased from the author by mail order. (E. T. Malone, Jr., the reviewer, is assistant news editor of the Durham Sun and a member of the Chapel Hill Historical Society and NC Society of State and Local Historians.)
Spouse - H A Tilley '..mother..'
Spouse - Jas. Tilley Aged 74 Yrs., 3 Mos., 27 Ds.
Son of H A and M J Tilley
Web page updated 13 May 2017
Index of All Cemeteries
Alphabetical Index of All Burials
Previous Page