Index of All Cemeteries
Alphabetical Index of All Burials
Previous Page
Use the following to search across all the cemeteries listed.
Example: "Smith, Roger" (yes, use the quotes)
202 THOMPSON-EFLAND FAMILIES CEMETERY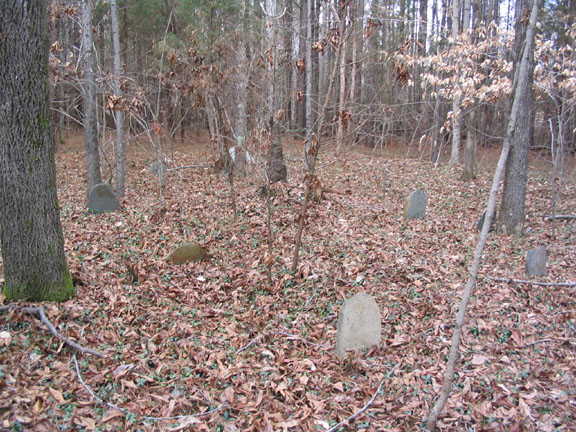 Location - In Cheeks Township north of Efland on Brookhollow Road (SR #1324). In a wooded area of second growth timber NW of the residence at 800 Brookhollow Road. Private property. In 1973 it was described as being in: "...a field some 200 yds. on left hand side of paved road. Marked by a clump of trees. On Thomas Allison's Property (leased to tenant farmer); formerly known as 'The Patterson Place'; also owned by the Garrett family at one time."

Coordinates: 36d 05m 23.0s N; 79d 09m 55.0s W Click here for Google maps

Survey - This cemetery was surveyed by M. C. Engstrom and B. B. Doak on September 20, 1973. Milton Forsyth visited and photographed the cemetery in February 2005 accompanied by the landowner, Mr. Thomas Allison III - see "Status Update [2005]" below.

Graves, Marked - There were 6 marked graves.

Graves, Unmarked - There were 6 unmarked graves.

Status [1973] - Unkempt; very poor condition. Covered with honeysuckle and brambles. A mat of periwinkle. Unenclosed although a low (18') earth embankment surrounds the cemetery which is slightly ovoid in shape. Three rows of graves contain 6 stones with discernible inscriptions; 3 blank or illegible stones; 3 depressions. Probably more graves here. Unmarked Efland graves are said to have preceded the Thompson graves.

Status Update [2005] - The cemetery is open and mostly clear of honeysuckle and brambles, and is in quite reasonable condition. Any inscriptions appear to be less discernable than they were 32 years ago; an example is shown (view inscribed fieldstone).


J----, A (b. - d. )
P----, W (b. - d. )

T----, C (b. - d. )

Thompson, Han--- (b. - d. )
Aged 75 Yrs. Footstone: H.T. (First Name Could Be 'Hannah'.)

Thompson, I (b. - d. )
Aged 78 Yrs. (First Initial Could Be 'R' - Stone Has Flaked Away.)

Thompson, W (b. - d. )
Web page updated 13 May 2017
Index of All Cemeteries
Alphabetical Index of All Burials
Previous Page