Index of All Cemeteries
Alphabetical Index of All Burials
Previous Page
Use the following to search across all the cemeteries listed.
Example: "Smith, Roger" (yes, use the quotes)
199 STROWD, M. D. FAMILY CEMETERY (CA.1890?)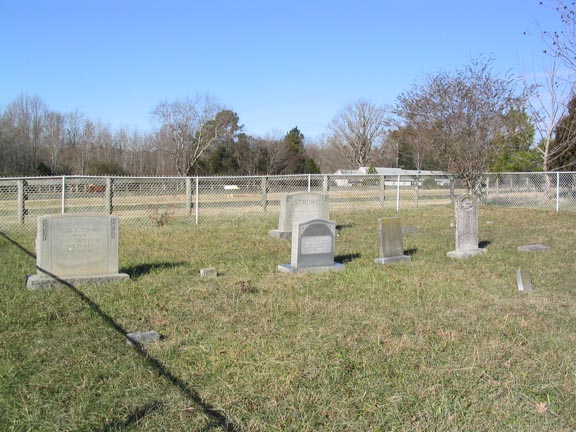 Location - In Chapel Hill Township in a field about 400 ft south of the former location of the M. D. Strowd house at the end of Strowd Lane (SR #1106). Private property.

Coordinates: 35d 55m 34.9s N; 79d 06m 31.7s W Click here for Google maps

Survey - This 1/4 acre cemetery was surveyed by B. B. Doak on February 21, 1973. Photographs by Milton Forsyth in December 2005; access courtesy of the owner of the surrounding land. The cemetery is owned by the Strowd family (Orange County PIN 9769-71-6999). See the plat.

Graves, Marked - There were 8 marked graves.

Graves, Unmarked - There were 10 unmarked graves.

Current Status - Very well kept; planted with daffodils. Enclosed by chain link fence.


Bishop, Mack Decada (b. 27 Dec 1889 - d. 2 Jul 1890)
Son of M G and M E Bishop
Son of M G and M E Bishop
'..wife And Mother..' Footstone: A.A.S.
Spouse - Manly D Strowd, Deacon Demacus [sic] Church. '..wife and Mother..'. Footstone: M.A.S.
'..husband And Father..' Footstone: M.M.S.
Web page updated 13 May 2017
Index of All Cemeteries
Alphabetical Index of All Burials
Previous Page