Index of All Cemeteries
Alphabetical Index of All Burials
Previous Page
Use the following to search across all the cemeteries listed.
Example: "Smith, Roger" (yes, use the quotes)
198 STRAYHORN, JAMES N. FAMILY CEMETERY (CA. 1836)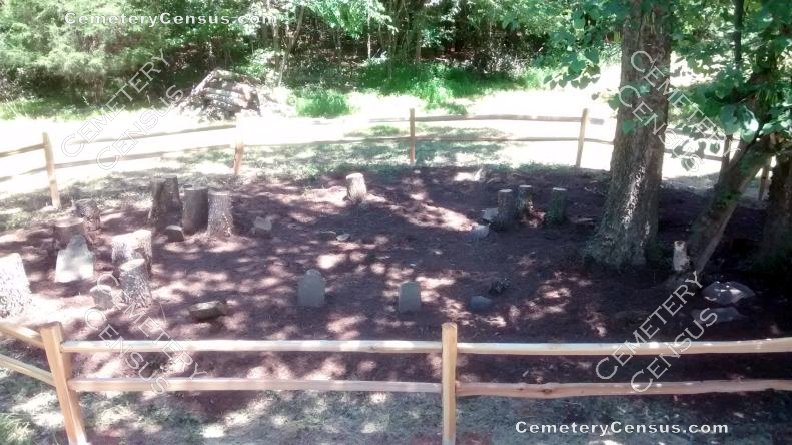 Location - SE of Hillsborough in south central Eno Township near the township line on the north side of Old NC Hwy 10 (SR #1710), westward a short distance from the Strayhorn Slave Cemetery (#196-please see), some 200 yds from the road across a field. Marked by a clump of redbud and sassafras trees.

Coordinates: 36d 02m 05.3s N; 79d 02m 29.6s W Click here for Google maps

Survey - This cemetery was surveyed by M. C. Engstrom and B. B. Doak on September 20, 1973 and was rechecked on December 6, 1973. Margaret Jones of the Orange County Environment & Resource Conservation Department and Milton Forsyth visited and photographed the cemetery on 15 Mar 2006 through the courtesy of Mr. John Lamb, the property manager. They were guided to the cemetery by Mr. Donnie Barnes, the chief caretaker of the property.

In 2016, the cemetery area was cleaned up and fenced off by a local boy scout group for an eagle project. The above photo is after that cleanup. The previous photo taken in 2006 shows the conditions before the cleanup.

Graves, Marked - There were 5 marked graves.

Graves, Unmarked - There were 5 unidentified stones in this cemetery.

Status (1973) - Unkempt; almost inpenetrable. Covered with honeysuckle, brambles, and dense thicket. Overgrown with rambler rose shoots. Roses were planted at some time on three sides of the cemetery. Contains a single row of 10 graves: 5 marked stones, one fallen; 5 unmarked stones. Unenclosed void-shaped cemetery is approximately 39' X 16 1/2'. Earliest stone marked 1836; No burials for nearly 70 yrs. (Large slave cemetery nearby on wooded hill a short distance eastward nearer University Station). See the 1973 plat.

Status (2010) - Mr. Barnes and his crew cleaned up the cemetery area in about 2003 and had regularly cut back new growth, so it was more accessable in 2006 than in 1973. In 2010 the property on which this cemetery lies was sold by the heirs of the late George and Julia Brumley to the Triangle Land Conservancy and became part of the 613 acre George and Julia Brumley Family Nature Preserve.


Burroughs, Jane (b. 1781 - d. 20 Aug 1836)
Web page updated 13 May 2017
Index of All Cemeteries
Alphabetical Index of All Burials
Previous Page