Index of All Cemeteries
Alphabetical Index of All Burials
Previous Page
Use the following to search across all the cemeteries listed.
Example: "Smith, Roger" (yes, use the quotes)
197 WILSON FAMILY CEMETERY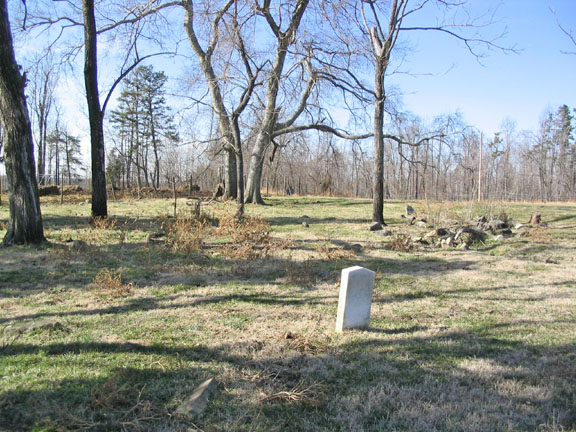 Location - In Cedar Grove Township off Wheelers Church Road (SR #1505), about 200 ft west of the road and just south of the driveway to 9400 Wheelers Church Road. Private property.

Coordinates: 36d 14m 09.0s N; 79d 08m 05.0s W Click here for Google maps

Survey - The cemetery was surveyed and photographed on February 7, 2005 by Milton Forsyth through the courtesy of the landowner, Mr. Buddy Lee Crabtree, who provided information on the cemetery. The cemetery was called to the attention of the researcher by Mr. Holloway, a neighbor of Mr. Crabtree.

Graves - There is one gravestone - a contemporary Confederate marker - and possibly a marker base, along with 3 rock-covered graves and other rocks that appear to be fieldstone markers.

Status - The cemetery has been badly damaged by cattle, so it is extremely difficult to obtain an organized description and number of the graves or to determine the original size.

Comments - The origin of this cemetery is uncertain, but a study of the deeds for the property leads one to believe that members of the Wilson family were buried here. The cemetery sits on 90 acres owned in 2005 by Mr. Buddy Lee Crabtree. He obtained the property in 1965 from J. Martin Crabtree (see O. C. Deeds), who had obtained it in 1960 from Thelma L. Horner, an heir to the property of Dr. R. S. Baynes (Deed 175:184). Dr. Baynes had died intestate in 1931 and his property was divided among his heirs, the 90 acre parcel being designated as "Tract 9" (Deed 105:328). It had been part of 371 (or sometimes 370) acres sold to Dr. Baynes in 1906 by William T. and Emma J. Wilson (Deed 59:79). This land (10 acres plus 361 acres) had been purchased in 1879 by George Felix Wilson and William T. Wilson (Deeds 42:422 and 47:240). On 3 Dec 1891, William T. Wilson and "commissioners" made a deed to William H. Jordan for the 371 acres as settlement of the partition of the property resulting from a lawsuit by Wilson against Walton Wilson and Raymond Wilson. But then Jordan immediately sold the land back to William T. Wilson, so the land was maintained in the family (Deeds 53:117 and 118). Although the land records are a bit murky about the lawsuit and the transaction, one can conjecture that George Felix Wilson had died and his share of the property had passed to his sons, one about 8 years old and the other about 6 years old. Because William T. and George Felix Wilson held the property together a legal proceeding ensued to separate the share of each. Then the partitioned land was sold, the children received their share in cash, and William T. Wilson reacquired all the land. None of the deeds seen mentions a family cemetery. Census records suggest descendants of the family still reside in Orange County. [M. Forsyth, Oct 2005]


Unknown, Unknown (b. - d. )
One or mores graves covered and marked with rocks.

Wilson, George Felix (b. Abt 1840 - d. 15 Jan 1888)
Confederate Marker "Co H 56 N C Inf C S A"
He was born in Caswell County and lived and farmed in Orange County until 1862 when he enlisted in the Confederate Army at age 20 on 2 May 1862. He served as a private, initially in Company D, 56th Regiment NC Infantry, then transferred to Company H on 28 Feb 1863. Captured at Fort Stedman, VA on 25 Mar 1865, he was confined at Point Lookout, MD until 22 Jun 1865 when he was released after taking the Oath of Allegiance. On 23 Dec 1880 he wed Angelina Love Parker, daughter of Nelson and Nancy Parker (He was 41, she 23; O. C. Marriages 04/405. The license was obtained by William T. Wilson). They apparently had at least two sons, Walton (possibly the person of that name who is buried in Walnut Grove UMC Cemetery, 25 Jun 1883 - 13 Oct 1974, a resident of Durham at the time of his death) and Raymond (6 Jun 1885 - 22 Nov 1949, buried Berry's Grove Church Cemetery; O. C. Death Certificate). The date of his death is taken from his tombstone application in 1947, made by son Raymond Wilson.
Web page updated 20 June 2017
Index of All Cemeteries
Alphabetical Index of All Burials
Previous Page