Index of All Cemeteries
Alphabetical Index of All Burials
Previous Page
Use the following to search across all the cemeteries listed.
Example: "Smith, Roger" (yes, use the quotes)
196 STRAYHORN, GILBERT SLAVE CEMETERY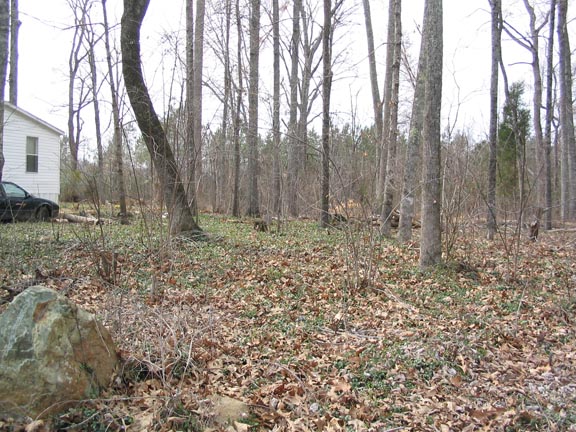 Location - In south central Eno Township near the township line at the NW intersection of Old NC Hwy 10 (SR #1710) and University Station Road (SR #1712), in a mobile home park. Private property; may be visited only with permission of the mobile home park owner.

Coordinates: 36d 02m 03.3s N; 79d 02m 21.7s W Click here for Google maps

Survey - This cemetery was surveyed on February 10, 1971 and rechecked in 1976, probably by Mrs. Beatrice B. Doak. Margaret Jones of the Orange County Environment & Resource Conservation Department and Milton Forsyth visited and photographed the cemetery on 8 Mar 2006 accompanied by Mrs. Dorothy C. Bane, the landowner.

Graves, Marked - There are no marked burials entered for this cemetery.

Graves, Unmarked - There were 100 or 150 or possibly more unmarked graves in this cemetery.

Status (1976) - A large area has now been covered with periwinkle, and many trees have fallen, but rows of depressions running north to south are clearly visible. There are no marked stones and few rough fieldstones. One sizable cairn of quartz and other stones probably contains more than one grave. The graves all face eastward apparently, and the rows seem regular. There are perhaps 100 or 150 graves possibly more. This is in all likelihood a very old slave cemetery. Gilbert Strayhorn was one of the founders of New Hope Presbyterian Church ca. 1756. Members of the early Strayhorn family are buried in the Old New Hope Cemetery. (Note: The small James N. Strayhorn Cemetery down the hill to the westward is apparently later, ca. 1836. [See Strayhorn, James N. Family Cemetery (#198)]).

Status (2006) - The cemetery is about 120 ft square and is at the top of a slight rise on which the mobile home park road is located, between two of the lots. Mr. and Mrs. Bane preserved the cemetery within the mobile home park and her late husband placed very large rocks along the road to mark the lot on which the cemetery resides. Graves marked by fieldstones and depressions are more evident along the north side of the cemetery. The cairn of quartz and other stones mentioned in 1976 is still evident.


Web page updated 13 May 2017
Index of All Cemeteries
Alphabetical Index of All Burials
Previous Page