Index of All Cemeteries
Alphabetical Index of All Burials
Previous Page
Use the following to search across all the cemeteries listed.
Example: "Smith, Roger" (yes, use the quotes)
191 SIMS FAMILY CEMETERY (1937)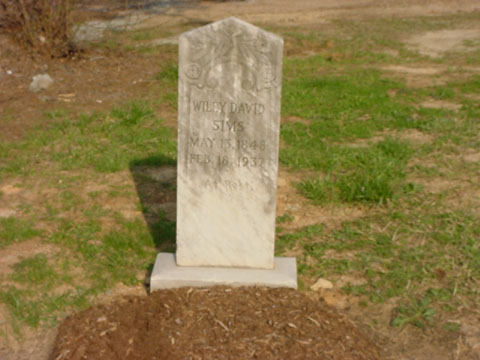 Location - In south central Little River Township at the NW intersection of New Sharon Church Road (SR #1538) and Schley Road (SR #1548).

Coordinates: 36d 08m 12.0s N; 79d 00m 53.0s W Click here for Google maps

Survey - This cemetery was surveyed on June 9, 1973, and rechecked on October 28, 1974. Picture provided by Margaret Jones in April 2003. The site is now occupied by a gas station (Jan 2005). The one marked grave sits forlornly in the graveled parking area to the right of the station, next to a cedar tree. One would expect that at some point it will be run over by a pickup or an SUV and lost. 1973 cemetery plat.

Graves, Marked - There was 1 marked grave.

Graves, Unmarked - There were 9 unmarked graves.


Sims, Wiley David (b. 13 May 1848 - d. 18 Feb 1937)
Web page updated 13 May 2017
Index of All Cemeteries
Alphabetical Index of All Burials
Previous Page