Index of All Cemeteries
Alphabetical Index of All Burials
Previous Page
Use the following to search across all the cemeteries listed.
Example: "Smith, Roger" (yes, use the quotes)
190 ATWATER FAMILY CEMETERY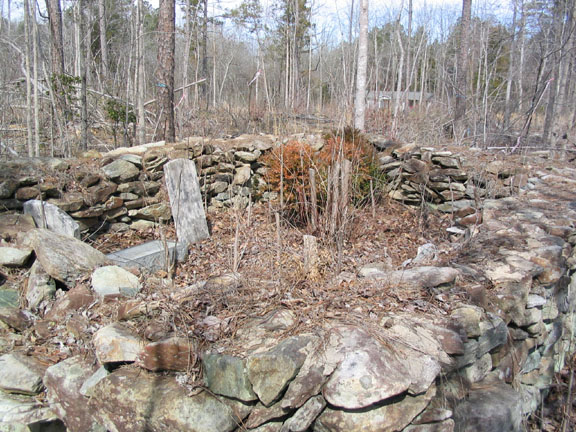 Location - In Bingham Township south of Twin Elms Road. Twin Elms Road is a private road west off Ferguson Road (SR 1948); the cemetery sits about 200 ft south of the road and about 50 ft west of a N-S wooden fence approximately 0.9 mile west down Twin Elms Road. Private property.

Coordinates: 35d 52m 33.1s N; 79d 10m 02.8s W Click here for Google maps

Survey - This cemetery was surveyed and photographed on 15 March 2005 by Milton Forsyth at the invitation of Warren Atwater, a descendant, and with permission from the landowner.

Graves - Four graves, two marked by gravestones, one with an older stone in place and one older stone broken off but replaced by a new memorial stone placed by the Atwater descendants. Two other graves are clearly of children and marked at each end by fieldstones and at the head by a shrub; one grave is 5 1/2 ft long and the other is 3 1/2 ft long.

Status - The 24 ft by 17 ft cemetery is enclosed by a 2 1/2 ft thick rock wall about 3 1/2 to 4 ft high. The area had been logged in recent years, but the cemetery was not disturbed.


Atwater, Eleanor McCauley (b. 9 Dec 1801 - d. 2 Mar 1872)
Wife of the Reverend Wilson Atwater, "Dead yet liveth". Footstone: E. A. Joint Marker. Daughter of Matthew and Martha Johnston McCauley, who are buried in the McCauley Family Cemetery (#158).

Atwater, Wilson, Rev. (b. 3 Dec 1797 - d. 31 Jul 1885)
Stone broken off and set against wall. Footstone: W. A. Joint Marker.
Web page updated 13 May 2017
Index of All Cemeteries
Alphabetical Index of All Burials
Previous Page