Index of All Cemeteries
Alphabetical Index of All Burials
Previous Page
Use the following to search across all the cemeteries listed.
Example: "Smith, Roger" (yes, use the quotes)
188 ROBSON, WILLIAM FAMILY CEMETERY (CA. 1842)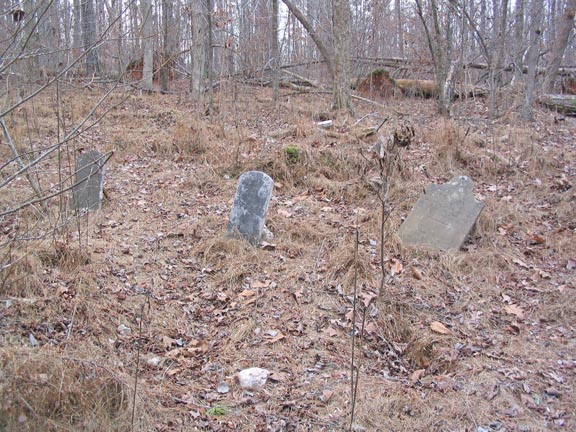 Location - In Chapel Hill Township within Duke Forest, 1.24 mi north of the forest road entrance west of the New Hope Fire Station on Whitfield Rd (SR #1731). On Duke Forest property not on an authorized trail or in an authorized access area; permission to visit must be obtained from the Office of the Duke Forest.

Coordinates: 35d 59m 40.4s N; 79d 02m 13.6s W Click here for Google maps

Survey - This cemetery was surveyed by B. B. Doak on May 6, 1973. Photographs provided and directions revised by Milton Forsyth on January 16, 2006.

Comment - Not on Duke Forest maps. Follow the Duke Forest "Wooden Bridge Road" north then turning east until reaching its intersection with the N-S power line clearing (the clearing is passed earlier while proceeding in a northerly direction); the cemetery is 500 ft north of the road. Go up the west side of the power line clearing to the top of the hill about 50 ft. past a stone wall and large stone pile on the side of the clearing, then bear WNW (300 deg.) down the slope for about 325 ft.

Graves, Marked - There were 3 marked graves.

Graves, Unmarked - There were possibly 4 unmarked graves.

Status [1973] - The entire area is covered with periwinkle which is being invaded by poison ivy; several large cedar trees stand to the east and northeast of the row of graves. Three graves are marked by inscribed stones and 3 by rough stones; a large depression marks another grave or excavation.


Robson, Ann (b. 21 Sep 1795 - d. 7 Feb 1872)
Wife of William Robson (year of birth could be 1793)

Robson, John (b. - d. 28 Jun 1842)

Robson, William (Wm) (b. 24 May 1783 - d. 4 Apr 1871)
Web page updated 13 May 2017
Index of All Cemeteries
Alphabetical Index of All Burials
Previous Page