Index of All Cemeteries
Alphabetical Index of All Burials
Previous Page
Use the following to search across all the cemeteries listed.
Example: "Smith, Roger" (yes, use the quotes)
187 RILEY FAMILY CEMETERY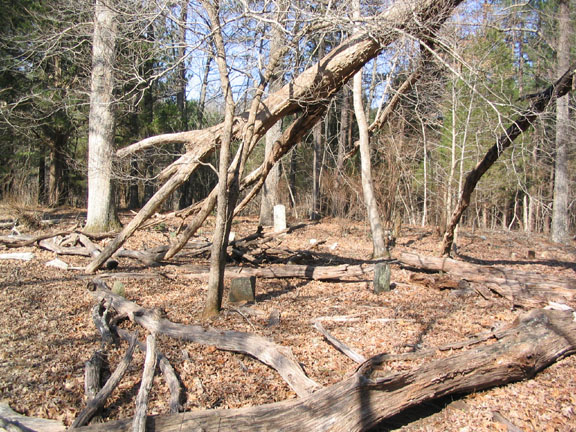 Location - In Eno Township SE of Hillsborough, north of Linden Road (SR #1566). Private property, and other private property must be crossed to access the site.

Coordinates: 36d 03m 39.1s N; 79d 01m 25.2s W Click here for Google maps

Survey - Date of 1970s survey not stated. Milton Forsyth visited and photographed the cemetery in February 2005 with the aid of directions from Mr. John Scarlett.

Graves, Marked - There were 8 marked graves in this cemetery.

Comment - To access the cemetery, go 0.8 mile north of Hwy US70 on Linden Road (SR #1566 - west of Pleasant Green Road) to where an unused overgrown dirt single-lane road leaves the north side of Linden Road heading northward (at road coordinates 36d 03m 26s N, 79d 01m 26s W). The cemetery is 0.25 mile north on the east side of this old road at the top of a rise. At one point the road is partially used as a driveway for a newer white house, and one might gain access to the old road by entering the drive at 3919 Linden Road and joining the old track just NW of the new house.


C----, M M (b. 1808 - d. 1885)
C----, O M (b. - d. 1806)
(Death Year of 1806 Could Be A Birth Year??)

M----, S (b. - d. 13 Mar 1844)

R----, A (b. - d. 19 Jan 1968)

R----, T W (b. - d. )

Riley, Annie (b. 14 Feb 1844 - d. 29 Sep 1907)
Daughter of Durell Riley Footstone: A.R.

Riley, Durell (b. 8 Dec 1835 - d. 1 May 1899)
'Father' (Stone Broken) Footstone: D.R.

Riley, Martha A (b. - d. 12 Jun 1916)
Daughter of B D and Ida Riley Age 1 Mo., 22 Ds. Footstone: M.A.R.
Web page updated 13 May 2017
Index of All Cemeteries
Alphabetical Index of All Burials
Previous Page