Index of All Cemeteries
Alphabetical Index of All Burials
Previous Page
Use the following to search across all the cemeteries listed.
Example: "Smith, Roger" (yes, use the quotes)
186 RICE FAMILY CEMETERY (1889)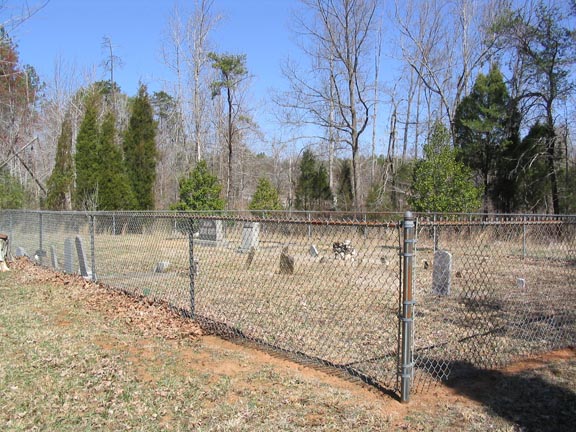 Location - In SW Cedar Grove Township near the Alamance County line on the west side of the property at 8422 High Rock Rd. (SR #1340), about 490 ft. SW of the road. Private property.

Coordinates: 36d 09m 04.5s N; 79d 15m 24.4s W Click here for Google maps

Survey - This cemetery was surveyed on December 14, 1974 but the surveyors were not named. Milton Forsyth visited this cemetery on 15 Mar 2006 and provided photographs and an update of the location and status.

Graves, Marked - There were 15 marked graves noted in 1974.

Graves, Unmarked - In 1974 there were 16 unmarked graves, possibly more, including rough stones, blank funeral markers, a depression, 2 brick copings containing perhaps 4 unmarked graves.

Status (2006) - A rectangular area with chain fencing around it measuring 67' 8" X 35' 11" (smaller than the area described below in the 1949 deed). Carefully maintained. New burials since 1974 have been added below.

Comment - This land passed to Lemuel Rice in 1866: O. C. Will Book G, p. 493, Will of Zadoc Rice, May 1866: "To Son Lemuel Rice the tract of land on which his mill is located." The cemetary was established as a family cemetery in 1931: O. C. Deed Book 99, p. 97, dated 3 Mar 1931, Hettie Rice Church and Celia Elisabeth Rice Rowland, Orange Co., NC, to Zaddock Rice & his Wife Celia Lynch Rice & their heirs forever & ever, a portion of land Zaddock Rice & Celia Lynch Rice & the home place of the late Lemuel Lynch Rice...For a burying ground forever & ever as long as time shall last. This said piece of land must never be sold or molested in any way; only for a burying ground...contains 1/5 of an acre more or less, iron stabs at the 4 corners of the said piece of land. Bounded on the north, east, west, & south by lands of Hettie Rice Church & Celia Elisabeth Rice Rowland...to have right of way through yard by the old Rice home. Iron fence around burial ground must never be moved. The cemetery location and boundry was delineated in O. C. DB 132, p. 397, 21 Sep 1949, Hattie Rice Church and Mrs. Celia E. Rice Rowland to Walter D. Cates, and the size was given as 86 ft. by 122 ft.


Burgess, Jacqueline Beaddles (b. 11 Jun 1962 - d. 12 Sep 2003)
Rice, A F (b. 7 Mar 1847 - d. 22 Feb 1913)
Wife of L L Rice. "Mother". Footstone A.F.R.

Rice, Addie F (b. 21 Dec 1881 - d. 2 Apr 1904)
Daughter of L L and A F Rice. Footstone: A.F.R.

Rice, Elsie Fields (b. 25 Apr 1884 - d. 25 Mar 1933)
Wife of William Nuten Rice. Footstone; 'Mother'

Rice, Infant (b. - d. 11 Feb 1945)
Infant son of J J and L J Rice

Rice, Lacy (b. 1888 - d. 1957)

Rice, Lawrence (b. 16 Dec 1852 - d. 19 Dec 1926)

Rice, Lawrence (b. - d. 2 Nov 19--)
Aged 18 Yrs., 11 Mos., 2 Ds. D. 2 Nov 19--.

Rice, Lemuel Lynch (b. 26 Mar 1844 - d. 24 Nov 1920)

Rice, William Nuten (b. 19 Nov 1884 - d. 23 Jun 1945)

Rice, Winfred Kenyon (b. 26 Nov 1922 - d. 16 Aug 1997)

Rowland, Celia Elisabeth Rice (b. 31 Aug 1879 - d. 26 Jan 1959)
Aged 79 Yrs. A donor of the cemetery. Known as 'Lizzie'.

Terrell, ----- (b. - d. )
Initial only on concrete marker

Terrell, Annie Elizabeth (b. - d. )

Terrell, Banks Rice (b. 13 Aug 1886 - d. 1 Jun 1889)

Terrell, R W (b. 6 Feb 1862 - d. 11 Nov 1920)
Web page updated 13 May 2017
Index of All Cemeteries
Alphabetical Index of All Burials
Previous Page