Index of All Cemeteries
Alphabetical Index of All Burials
Previous Page
Use the following to search across all the cemeteries listed.
Example: "Smith, Roger" (yes, use the quotes)
185 UNIDENTIFIED CEMETERY - OFF NEW BETHEL-HICKORY GROVE CHURCH RD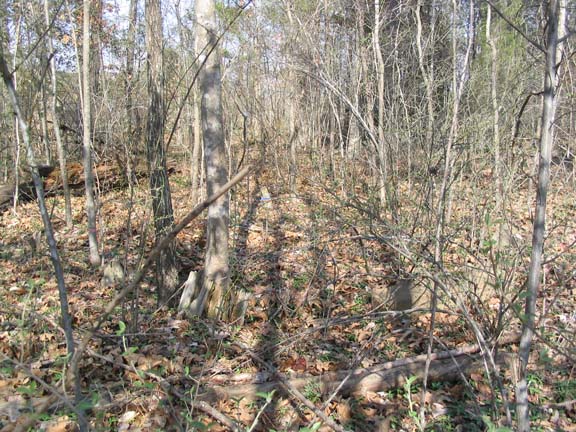 Location - Near the Bingham Township-Chapel Hill Township line off the relocated Bethel-Hickory Grove Church Rd (SR #1104), on the bank above and about 30 feet from the west side of the road, outside of the quarry fence.

Coordinates: 35d 55m 49.6s N; 79d 08m 40.6s W Click here for Google maps

Survey - On 3 Mar 2006 Milton Forsyth was taken to the site by Mr. Carl S. Durham, who prior to the quarry expansion lived for some years in the area. Details and photographs by Milton Forsyth.

Graves, Unmarked - There appear to be some 17-20 graves in 2-3 rows, 10 marked with fieldstones.

Status - The unattended and overgrown cemetery is approximately 35 paces N-S and 20 paces E-W, and is covered with periwinkle. It is on the south edge of an old roadbed, which may have been an original road to the west from Carrboro or was possibly merely a farm road. A fallen concrete obelisk, about 3 ft tall, perhaps marks the site of the cemetery rather than a grave.


Web page updated 13 May 2017
Index of All Cemeteries
Alphabetical Index of All Burials
Previous Page