Index of All Cemeteries
Alphabetical Index of All Burials
Previous Page
Use the following to search across all the cemeteries listed.
Example: "Smith, Roger" (yes, use the quotes)
181 PUREFOY FAMILY CEMETERY (CA. 1837)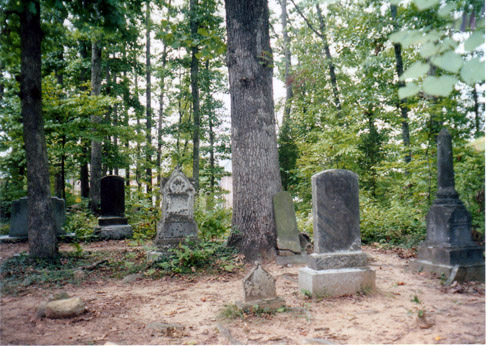 Location - In the Southern Village development south of Chapel Hill on Arlen Park Drive in 'Arlen Park,' an approximate one acre preserved natural area at the top of a knoll in the development. Readily accessable. [1996 update]

Coordinates: 35d 53m 05.0s N; 79d 03m 55.0s W Click here for Google maps

Survey - This cemetery was surveyed on March 10, 1974 By B. B. Doak. Milton Forsyth visited the site in 1996.

Graves, Marked - There were 11 marked graves.

Graves, Unmarked - There were 14 rough or broken stones and 3 depressions.

Current Status - Condition is fair. Several large trees and quite a few young trees cover the area along with periwinkle. Report has it that the plot was originally surrounded by a stone wall several feet high, but except for the east wall and a part of the north wall, most of the stones have disappeared [1974].

Photo by Milton Forsyth.


Merritt, Wm H (Rev) (b. 18 Feb 1779 - d. 3 Jul 1850)
Aged 71 Yrs., 4 Mo., 14 Ds. Photo by Milton Forsyth.

Murrell, Willie (b. - d. 22 Oct 1865)
Aged 3 Yrs., 2 Mos., 9 Ds. Photo by Milton Forsyth.

Purefoy, Alice (b. 28 Dec 1853 - d. 30 Mar 1888)
Daughter of George W. and Lucy Purefoy. Footstone: A.P. Photo by Milton Forsyth.

Purefoy, G W (D.D.) (b. 29 Jan 1809 - d. 17 Apr 1880)

Purefoy, John H (b. 1 Feb 1840 - d. 13 Jul 1890)
Footstone: J.H.P. Photo by Milton Forsyth.

Purefoy, Leila (Little) (b. 12 Dec 1882 - d. 27 Jun 1883)
Daughter of G W and L W Purefoy

Purefoy, Lucy C (b. 7 Apr 1815 - d. 8 Jul 1893)

Purefoy, Mary (b. - d. 16 Aug 1838)
B. 14 --- 1837 (?) (month and Year of Birth And Year of Death Are Questionable) (stone Badly Broken)

Purefoy, William H (b. 4 Nov 1835 - d. 14 Mar 1837)

Wilson, Emily Purefoy (b. 17 Dec 1845 - d. 12 Apr 1941)
Wife of E P Wilson Footstone: E.P.W.

Wilson, Eugene H (b. 22 May 1837 - d. 5 Dec 1905)
Footstone: E. H. W.

Notes from Beatrice B. Doak: 'Emily's stone does say Wife of E.P. Wilson; Eugene's stone does say Eugene H. Wilson. I checked this discrepancy at the time; yet they must obviously be husband and wife. Alice and Little Leila cannot be sisters.'

Photo by Milton Forsyth.
Web page updated 13 May 2017
Index of All Cemeteries
Alphabetical Index of All Burials
Previous Page