Index of All Cemeteries
Alphabetical Index of All Burials
Previous Page
Use the following to search across all the cemeteries listed.
Example: "Smith, Roger" (yes, use the quotes)
180 PRITCHARD FAMILY CEMETERY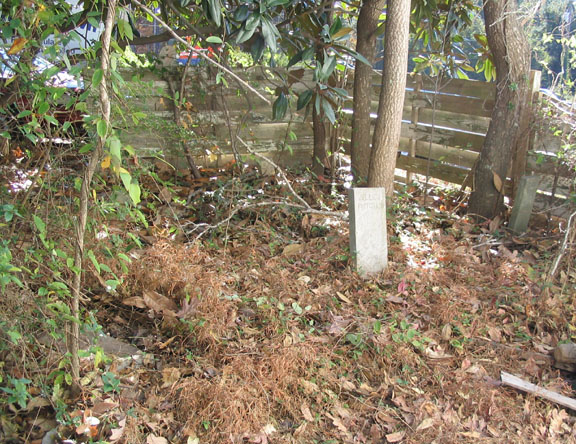 Location - In Chapel Hill Township near the intersection of US 15-501 and Smith Level Road (SR #1435) at the Orange-Chatham County Line. The small cemetery is at east end of a building (formerly Starpoint Tavern) and faces US 15-501. It is on property of the Starpoint Group Partnership (not of the house just to the north of the cemetery).

Coordinates: 35d 51m 42.7s N; 79d 04m 52.0s W Click here for Google maps

Survey - This cemetery was surveyed on April 26, 1973. Information on the cemetery apparently came from Mr. George C. Cole, according to the notes of the survey. Milton Forsyth visited and photographed the cemetery on 19 Nov 2005.

Graves, Marked - There were 3 marked graves.

Graves, Unmarked - There may have been 1 unmarked grave (possibly that of Annette Pritchard) as fragments of one tombstone were evident.

Status [1973] - The small cemetery of 3, possibly 4, Pritchard graves is enclosed by a board fence on 2 sides from the highway (15-501) and the tavern parking lot. Refuse has been dumped here, and it is overgrown with honeysuckle, weeds, and small trees. Various utility pipes intersect the cemetery and have clearly been laid through and across the graves.

Status [2005] - The cemetery is in much the same condition as in 1973. The area of the three graves measures 16' x 16' and no other grave was obvious. A magnolia tree shown in drawings of the 1973 survey is very large and fallen leaves from this tree cover the cemetery. Other trees have grown up from the graves of Eason and Mealy Pritchard. The stone of Mealy Pritchard has broken and fallen in place. The board fence still is in place on the south side and on 1/2 of the east side. No death certificates were found in Orange County records for the persons buried here.


Pritchard, Annette (b. - d. )
'Annette Pritchard Is Also Said To Be Buried Here, But No Marked Stone Is Standing, Although Fragments of A Headstone Exist.' (According To Note From M C Engstrom)

Pritchard, Eason (b. - d. )

Pritchard, Jellico (b. - d. )

Pritchard, Mealy (b. - d. )
Web page updated 13 May 2017
Index of All Cemeteries
Alphabetical Index of All Burials
Previous Page