Index of All Cemeteries
Alphabetical Index of All Burials
Previous Page
Use the following to search across all the cemeteries listed.
Example: "Smith, Roger" (yes, use the quotes)
178 BROWN-PORTERFIELD FAMILY CEMETERY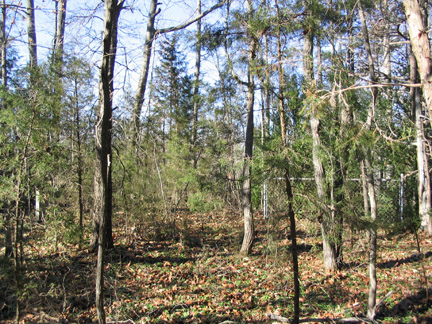 Location - In Little River Township near the Person County line at the end of Beasley Road (SR #1578), which is south off of Breeze Road (SR #1515). Private property.

Coordinates: 36d 14m 01.0s N; 79d 04m 04.0s W Click here for Google maps

Also referred to as the Porterfield-Brown Family Cemetery.

Survey - This cemetery was surveyed on November 11, 1974. It was visited and photographed by Milton Forsyth in January 2005.

Graves, Marked - There were 9 marked graves.

Graves, Unmarked - There were 8 unmarked graves, probably more.

Status (2005) - Unattended and overgrown with vegetation, but the stones remain in fine condition. The graves of Roann Tilley, Silas Hopkins, and Thomas Porterfield are surrounded by a chain-link fence.

Comment - Beasley Road is south off Breeze Road (SR #1515) and is about 1/4 mile long, and ends ("State Maintence Ends" sign) at an old farmstead where two tall stone chimneys are all that remains of the house. There is a small modern brick house on the east (left) and a modern modular wood house on the west (right). Park at the stone chimneys and walk to the right of them, then swing west (to the right) on a dirt or grass-covered single-lane road that lies to the south (left) of the modular home's lot. The cemetery is about 200 ft down the road on the left about 50 ft into a wooded area. A portion is surrounded by a chain-link fence, and the area is covered with vinca major (periwinkle). This is private property and permission should be requested from the landowners at the location.


Brown, Beedie Bell (b. 2 Jun 1884 - d. 12 Apr 1912)
'At Rest'. Footstone: S.H.
Son of R. B. and D. R. Porterfield. 'Budded on earth to bloom in heaven'
'At Rest'. Footstone: R.T.
Web page updated 13 May 2017
Index of All Cemeteries
Alphabetical Index of All Burials
Previous Page