Index of All Cemeteries
Alphabetical Index of All Burials
Previous Page
Use the following to search across all the cemeteries listed.
Example: "Smith, Roger" (yes, use the quotes)
175 PIPER FAMILY CEMETERY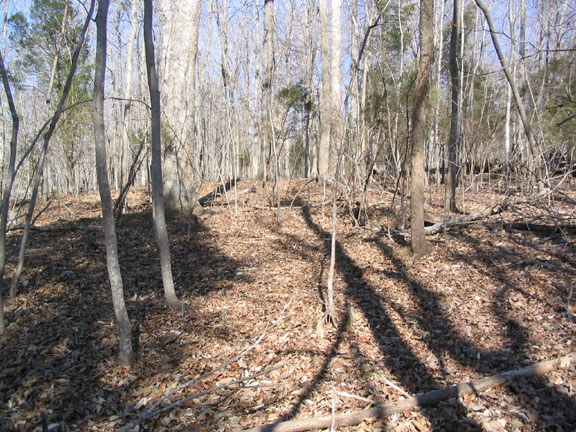 Location - In Eno Township in Eno River State Park, west a short distance from the main headquarters building at the end of Cole Mill Road (SR #1569).

Coordinates: 36d 04m 28.0s N; 79d 00m 26.0s W Click here for Google maps

Survey - This cemetery was surveyed on March 5, 1965 By Margaret Nygard. Milton Forsyth visited the cemetery in 1996 and prepared the location instructions. Plat of cemetery by Margaret Nygard in 1965. There are no burial entries for this cemetery. Photograph by Milton Forsyth in 2005.

Graves, Unmarked - There were 15 unmarked graves.

Comment [1996] - To reach the site, drive past the turnoff to the headquarters and keep to the left up the hill to the parking lot adjacent to the picnic area (note: the road to the right leads down to Few's Ford with the old Piper-Dixon residence on the right). The cemetery lies just in back of the picnic area: walk down the trail to the left of the picnic area about 100 paces from the parking lot; turn right and walk about 25 paces into the woods among some large oak trees. You are in the cemetery; look for the depressions and some small stones marking the head and foot of some of the graves. The plat (link above) is a helpful sketch of visible stones, trees, stumps and indentions but with no burial markings or grave indentifications.


Web page updated 13 May 2017
Index of All Cemeteries
Alphabetical Index of All Burials
Previous Page