Index of All Cemeteries
Alphabetical Index of All Burials
Previous Page
Use the following to search across all the cemeteries listed.
Example: "Smith, Roger" (yes, use the quotes)
173 PARTIN FAMILY CEMETERY - BLACK (CA. 1886)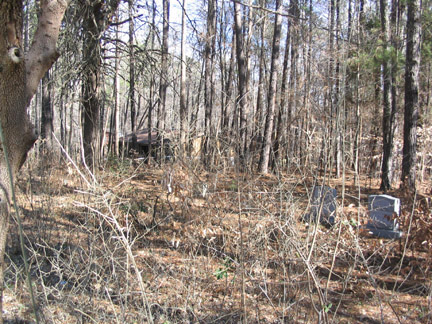 Location - In Chapel Hill on Piney Mountain Road about 1 mile from the Martin Luther King, Jr. Blvd., (formerly Airport Road) intersection. The cemetery is on the roadside to the right (east) just past Louis Armstrong Court.

Coordinates: 35d 56m 51.0s N; 79d 02m 50.0s W Click here for Google maps

Survey - This cemetery was surveyed by Mrs. A. G. Engstrom and Beatrice B. Doak on November 16, 1972.

Graves, Marked - There were 6 marked graves.

Graves, Unmarked - There were 23 unmarked graves.

Current Status - The unenclosed Partin Family Cemetery is 43' X 72' and apparently contains 29 graves. Of these, 6 persons have inscribed tombstones, all relatively recent. There are 23 uninscribed fieldstones. A small row of quartz stones appears to mark the graves of 5 children.


Bess, Anthony S R (b. 31 Jul 1954 - d. 28 Feb 1955)
Partin, Bettie Brewer (b. 26 May 1896 - d. 3 Dec 1955)

Partin, Clarence C (b. 9 May 1888 - d. 14 Jan 1944)
Son of Monroe and Emily Partin. (Stone Placed) by Bro'S Edward and London Footstone: C.C.P.

Partin, Emily (b. 5 Apr 1861 - d. 2 Mar 1886)
(Death Date Questionable Since Son Was Born 2 Years Later) 'Sleep On, Mother...' (by Son) Footstone: 'Mother'

Partin, Monroe L (b. 17 Jul 1853 - d. 17 Mar 1944)

Partin, Nancy E (b. 16 Apr 1868 - d. 22 Feb 1958)
(Wife of Monroe L Partin) Footstone: 'Mother'
Web page updated 13 May 2017
Index of All Cemeteries
Alphabetical Index of All Burials
Previous Page