Index of All Cemeteries
Alphabetical Index of All Burials
Previous Page
Use the following to search across all the cemeteries listed.
Example: "Smith, Roger" (yes, use the quotes)
170 NICHOLS, JOE FAMILY CEMETERY - BLACK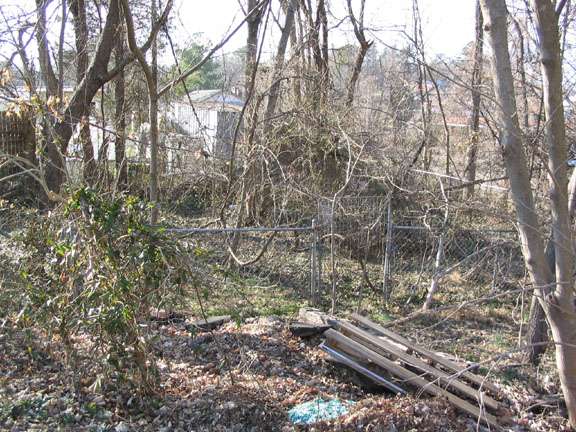 Location - In Hillsborough at 101 East Corbin Street, 25 feet NW of the parking lot area that stands behind what was in 2005 the Hillsborough Medical and Dental Center and immediately east of a building long used as a furniture store. Formerly the site of the residence of Joe Nichols. Private property.

Coordinates: 36d 05m 02.0s N; 79d 05m 55.2s W Click here for Google maps

Survey - This cemetery was surveyed January 29, 1975. Information from Arthur Nichols of Hillsborough. Photograph by Milton Forsyth in 2005, who also updated the location directions. See Orange Co. Deed Book 474, p. 647; PIN 9874-09-7353.

Graves, Marked - There were 5 marked graves.

Graves, Unmarked - In 1975 there were 8 or 10 unmarked graves.

Status [1974] - This derelict, abandoned family cemetery is now almost unrecognizable as a cemetery although rough, unmarked headstones and footstones are still in place. The cemetery contains '8 or 10 graves', according to Arthur Nichols, son of James and Emma Nichols, who identified 5 persons buried here. Debris is piled here, but a fence is planned to protect the graves. Joe Nichols, John Berry's valued carpenter, and his wife, 'Aunt Harriet Joe' Nichols, are almost certainly buried here. Four graves are visible under a great tree. Also probably buried here were George Nichols, Margaret Nichols, and John Nichols (a gardener), all children of Joe Nichols, the carpenter.

Status Update [2005] - This abandoned and unattended cemetery is surrounded by a damaged chain link fence and is densely covered in periwinkle and vines. No stones were evident but they might be hidden beneath the vegetation.


Nichols, Emma (b. - d. )

Nichols, Henry (b. - d. )
(Son of James and Emma Nichols)

Nichols, Henry Mitchell (b. - d. )
(Infant Son of James and Emma Nichols)

Nichols, James (b. - d. )

Taylor, Martha Nichols (b. - d. )
(Wife of David Taylor and Daughter of James and Emma Nichols)
Web page updated 13 May 2017
Index of All Cemeteries
Alphabetical Index of All Burials
Previous Page