Index of All Cemeteries
Alphabetical Index of All Burials
Previous Page
Use the following to search across all the cemeteries listed.
Example: "Smith, Roger" (yes, use the quotes)
169 NICHOLS, DUNCAN FAMILY CEMETERY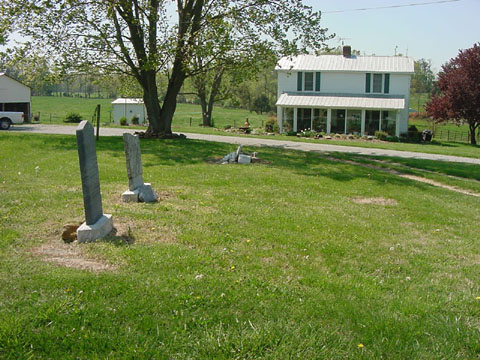 Location - In SW Little River Township, just off Hwy 57 .2 mile south of Schley intersection (Schley Road, SR #1548), at 4021 NC 57 (across from the road named Cricket Hill Drive); turn east on a narrow gravel road leading up to a white farmhouse. The cemetery is in a field directly in front of the house. Furrows have probably infringed on cemetery on the eastern side.

Coordinates: 36d 08m 54.0s N; 79d 03m 36.0s W Click here for Google maps

Survey - This cemetery was surveyed on January 29, 1975. Cemetery picture provided by Margaret Jones in April 2003. Visited and stones photographed by Milton Forsyth in February 2005, who also updated the location directions.

Graves - Rough stones: 5 fixed stones; 15 or more loose ones.


Nicholes, John E. (b. 6 Sep 1863 - d. 25 May 1885)
(Surname Appears As 'Nicholes') Aged 21 Yrs., 8 Mos., 19 Ds. Footstone: J.E.N.

Nicholes, Mary A. (b. 23 Apr 1868 - d. 8 Apr 1870)
(Surname Appears As 'Nicholes') (birth Year and Death Year Are Questionable) Aged 1 Yr., 11 Mos., 15 Ds. Footstone: M.A.N.

Nichols, Ann Kenion (b. - d. )
(Wife of Duncan Nichols; Married 8 Nov 1833. No Inscribed Stone; Known To Be Buried Here.)

Nichols, Duncan (b. - d. )
(No inscribed stone; Known to be buried here)

notes From Alonzo B. Coleman, Sr.:
(p. 295 Marriage Bonds) Duncan Nichols Mar. Ann Kenion On 8 Nov 1833. Wm Moore and J Taylor Witnessed. Their Sons Included: William A [b. 26 Dec 1835; Mar. Martha E; Children John E (b 6 Sep 1863), mary A (b. 23 Apr 1868), George (b. 187-)]; Paul, George, and Pass. ann Kenion Was Sister To Joseph, Benjamin, and Lawrence Neal Kenion.

Nichols, George (b. - d. )
B. 7 187-? D. 23 1876 (Headstone Broken) Footstone: G.N.

Nichols, Martha E. (b. 1 Apr 1843 - d. 17 Oct 1931)
Spouse - William A Nichols. 'Loved in life, in death remembered.'

Nichols, William A. (b. 26 Dec 1835 - d. 10 May 1912)
Spouse - Martha E. Nichols. Son of Duncan and Ann Kenion Nichols. 'The Lord gave and the Lord hath taken away, blessed be the name of the Lord.' Footstone: W.A.N.

Wilson, ----- (b. - d. 17 May 1803)
Aged 74 Yrs. (Headstone Broken)
Web page updated 13 May 2017
Index of All Cemeteries
Alphabetical Index of All Burials
Previous Page