Index of All Cemeteries
Alphabetical Index of All Burials
Previous Page
Use the following to search across all the cemeteries listed.
Example: "Smith, Roger" (yes, use the quotes)
164 MINNIS FAMILY CEMETERY (ca. 1834)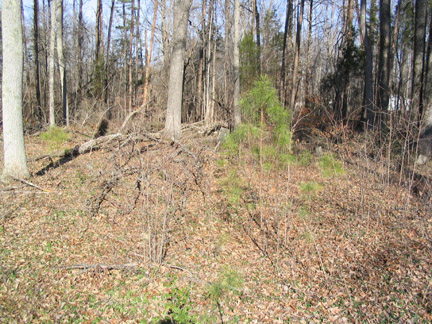 Location - In west central Bingham Township NW of the intersection of Teer Road (SR #1101) and Bradshaw Quarry Road (SR #1100 and SR #1115). The stone-walled cemetery lies on the right hand side about 100 ft north up Kinlin Trail, a new road about 100 ft west of the intersection.

Coordinates: 35d 58m 18.0s N; 79d 14m 56.0s W Click here for Google maps

Survey - This cemetery was surveyed on February 28, 1974. Visited and photographed in January 2005 by Milton Forsyth, who also revised the location instructions.

Graves, Marked - 12 marked graves.

Graves, Unmarked - 55 unmarked graves. There are probably many more.

Comment - See historical comments under entry for 'Pickard, John'.

Status [2005] - Cemetery is unattended and overgrown and the stone walls are partially broken down. There are still some standing grave markers; apparently the appearance is much like it was in the 1970s.


C----, J P (b. - d. )

Crawford, George S. (b. - d. 3 Mar 1854)
Son of Saml. and Rebecca Crawford. Ag'D 1 Yr. 4 Mos. 26 Ds.

Minnis, Infant Son (b. - d. 11 Jul 1852)
Infant Son of Jas. M. and Mary Minnis. Age 8 Mos., 18 Ds.

Minnis, Infant Son (b. - d. 26 Feb 1853)
Infant Son of Jas. M. and Mary Minnis (stone fallen)

Minnis, James M. (b. - d. 24 Mar 1854)
Aged 39 Yrs., 3 Mos., 9 Ds.

Minnis, Mary (b. - d. 25 Mar 1853)
Wife of Jas. M. Minnis. Aged 32 Yrs., 11 Mos., 29 Ds.

Minnis, Mary Ann (b. - d. 22 Jul 1852)
Daughter of Jas. M. and Mary Minnis. Aged 1 Yr., 11 Mos., 8 Ds.

Pickard, Daniel (b. - d. 15 Apr 1842)

Pickard, Elisha (b. - d. 25 Dec 1834)
Shale (Stone out of position)

Pickard, Ellen A. (b. 6 Feb 1801 - d. 18 Nov 1874)
Wife of John Pickard. Aged 73 Yrs., 9 Mos. and 12 Ds. (stone off base). Name: Ellena (or Ellen A.?)

Pickard, John (b. 1800 - d. Jan 1863)
Aged about 63 Yrs. (stone off base). Footstone: J. P. --- From a letter from Jim Pickard to Mrs. Engstrom, Feb 11, 1977: I found the old Minnis Graveyard last summer and found John and Ellena Pickard's stones. They are my great-grandparents. But I did not find Elisha's who was John's father. Someone has destroyed the stone as Mr. Bradshaw, who owns the land, said vandals had damaged the graveyard recently. [James W. Pickard, 114 Shaw St., Randleman, NC 27317]. See also Orange County Will Book D, P. 351, Will of John Pickard, Dtd 15 Feb 1812.

Smith, Edward (b. 14 Aug 1820 - d. 17 Nov 1865)
Aged 45 Yrs., 3 Mos. and 3 Ds. Footstone: E.S.
Web page updated 13 May 2017
Index of All Cemeteries
Alphabetical Index of All Burials
Previous Page