Index of All Cemeteries
Alphabetical Index of All Burials
Previous Page
Use the following to search across all the cemeteries listed.
Example: "Smith, Roger" (yes, use the quotes)
161 MCPHERSON FAMILY CEMETERY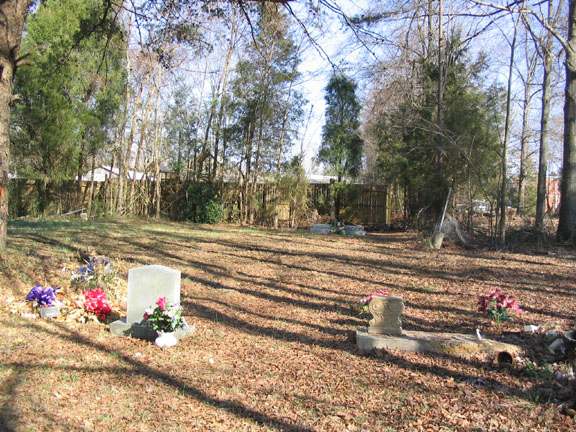 Location - Located on land owned by the late Edward 'Pete' McPherson, at the northwest corner of the intersection of N. Nash St. and Hayes Ave., in west Hillsborough. Access off Hayes Ave.

Coordinates: 36d 04m 51.2s N; 79d 06m 44.9s W Click here for Google maps

Survey - This burial site was surveyed on December 22, 1974. Milton Forsyth visited and photographed the site in February 2005 through the courtesy of Mr. Dwight Long, a family member.

Status [1974] - A single unmarked grave, that of brickmason Edward 'Pete' McPherson, died Apr 1, 1972 occupies this overgrown unkempt corner plot.

Status Update [2005] - Several later burials now occupy the cemetery, including one in early 2005. The site is maintained by family members.

Additional burials submitted by Janice Hester Chavis in March 2011.


Long, Clint (b. - d. )
Grandson of Pete McPherson

Long, Reginald (b. - d. )
Grandson of Pete McPherson

McPherson, Dorothy Perkins (b. - d. )

McPherson, Edward 'Pete' (b. 6 Jun 1900 - d. 1 Apr 1972)
Information furnished to Mrs. Engstrom: Edward 'Pete' McPherson was known to his family as 'Big Daddy', and to his friends and associates as 'Pappy Red' or 'Mr. Pete.' He was a master brick layer. Edward McPherson was born 6 Jun 1900 and died 1 Apr 1972, the third Child of one William McPherson, who d. 1933 (born in Alamance, 'up in the sands') and Margaret 'Maggie' Powell, probably a native of Chatham. Edward married (1) Maude Cordelia Johnson, of Virginia, circa 1918-19. They later divorced. He married (2) Georgiana Poteat of Cedar Grove area; she survives him. 'Maggie' Powell McPherson was buried in a cemetery north of 70-A, North Street Extended, on an embankment near Jack Payne's.

McPherson, Gert (b. 3 Jan 1911 - d. 15 Apr 1999)
Husband of Dorothy Perkins McPherson. Brother of Pete McPherson.

McPherson, Maude Cordelia Johnson (b. - d. )
Wife of Edward "Pete" McPherson

McPherson, Moriah Ann Gordon (b. 18 Sep 1927 - d. 21 Jan 2008)
Wife of William Edward McPherson, Sr.

McPherson, Phillip Alexander (Buck) (b. 13 Jul 1942 - d. 24 Jan 2011)

McPherson, William Edward, Sr. (Bubba Mac) (b. 31 Mar 1922 - d. 28 May 2010)
Husband of Mariah Ann Gordon McPherson. Son of Pete McPherson.
Web page updated 13 May 2017
Index of All Cemeteries
Alphabetical Index of All Burials
Previous Page