Index of All Cemeteries
Alphabetical Index of All Burials
Previous Page
Use the following to search across all the cemeteries listed.
Example: "Smith, Roger" (yes, use the quotes)
158 MCCAULEY FAMILY CEMETERY (1832)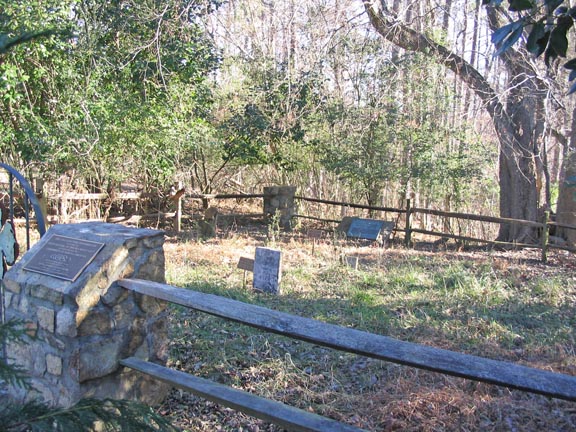 Location - In Chapel Hill Township on University Lake Rd (SR #1937), 0.3 mi. south of the intersection of University Lake Rd and Jones Ferry Road (SR #1942). The cemetery lies about 75 ft. east of the road, to the rear of the lake warden's cottage. Private property.

Coordinates: 35d 53m 58.2s N; 79d 05m 28.2s W Click here for Google maps

Survey - Mrs. B. B. Doak surveyed this cemetery on December 3, 1972. Milton Forsyth photographed the cemetery on December 20, 2005 with the permission of Mr. Bob Glosson, the Lake Warden, who resided at the cottage. Milton also updated the description. See the plat.

Graves, Marked - There were 3 marked graves, and a memorial plaque to Matthew McCauley [see his entry].

Graves, Unmarked - 6 (possibly 7)

Status - Well-kept. The cemetery was restored in 1992 and surrounded by a rail and stone pillared fence, replacing the previous chain-link fence. A metal plaque on the gatepost celebrates this event. The Matthew McCauley memorial plaque is attached to a rock at the rear of the cemetery.


McCauley, Chas H (b. 8 Feb 1850 - d. 6 Jan 1872)

McCauley, Martha (b. - d. )
Spouse - Matthew McCauley. Aged 8- Yrs. D. 18--

McCauley, Matthew (b. - d. 6 Sep 1821)
Aged 70 Yrs. (Death date based on modern research, and is not reflected in other entries).

The Matthew McCauley Memorial Plaque reads: 'He Also Shall Become a People, and He Also Shall Be Great.' Gen. XLVIII, 19 / Matthew McCauley / 1750-1832 / Emigrant From County Antrim, Ireland, To North Carolina Before The Revolution; Lieutenant, 10th North Carolina Regiment, Continental Army; A Donor of 150 Acres of Land For The Founding of The University of North Carolina; Husband of Martha, Who Is Buried Beside Him. / This Tablet Is Erected by Descendants. 1939.
Web page updated 13 May 2017
Index of All Cemeteries
Alphabetical Index of All Burials
Previous Page