Index of All Cemeteries
Alphabetical Index of All Burials
Previous Page
Use the following to search across all the cemeteries listed.
Example: "Smith, Roger" (yes, use the quotes)
157 MAYO (MAYHO) FAMILY CEMETERY - BLACK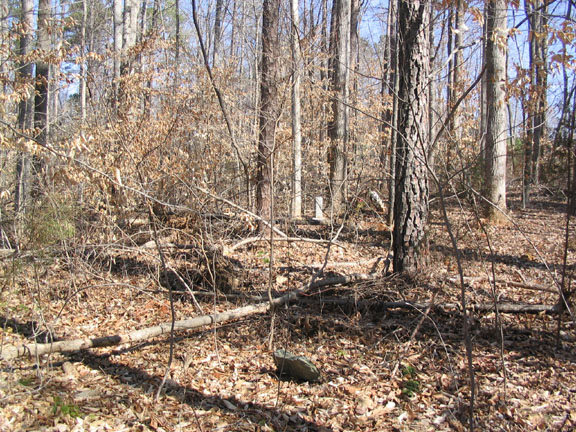 Location - In western Hillsborough Township, in west Hillsborough, in the woods behind a house at 127 Cody Lane, about 400 ft west of the road. It is indicated in the Orange County GIS system as PIN 9864-06-9297. The area is given as slightly less than one acre, although the cemetery appears to occupy only a small portion of that area. Private Property.

Coordinates: 36d 04m 30.4s N; 79d 07m 52.9s W Click here for Google maps

Survey - This cemetery was not found in the 1970s (see "Status [1970s]" below). Based on current information in February 2005, Milton Forsyth visited and photographed the cemetery and revised the location directions.

Graves, Marked - No older marked stones were observed in 2005.

Graves, Unmarked - There are several fieldstone-marked graves.

Status [1970s] - A Mayo (Mayho) Family Cemetery with a number of marked stones is reportedly located 'somewhere' in the Duke Quarry area west of Hillsborough. Marinda McPherson of Hillsborough says there are at least 2 marked stones; Mr. Price spoke of a Mayo Cemetery. Mayos reportedly moved to New York. A relative from California has made numerous trips to Hillsborough trying to establish the location and ownership of this cemetery.

Status [2005] - The cemetery appears to have been in Duke Forest's Hillsborough Division on the east border, in the vicinity of Duke Quarry, and was shown on the Duke Forest trail maps. It was located in the 1990s and in 1997 received a property easement, and is now owned by the Heirs of George Mayo. A descendant of the family was buried in this cemetery in 2004.


Mayo, George (b. - d. )
Unknown, Unknown (b. - d. 2004)
Web page updated 13 May 2017
Index of All Cemeteries
Alphabetical Index of All Burials
Previous Page