Index of All Cemeteries
Alphabetical Index of All Burials
Previous Page
Use the following to search across all the cemeteries listed.
Example: "Smith, Roger" (yes, use the quotes)
150 KIRKLAND FAMILY CEMETERY AT AYR MOUNT (CA. 1817)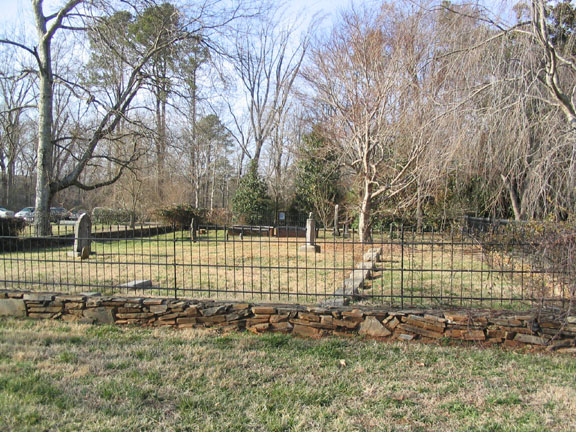 Location - Located at Ayr Mount, the Kirkland Family home on St. Mary's Road, .9 mile east of Hillsborough. The 50' X 82' fenced enclosure lies a few yards diagonally northwest of William kirkland's brick manor house.

Coordinates: 36d 04m 46.0s N; 79d 05m 07.0s W Click here for Google maps

Surveyor - Miss Annie S. Cameron made a first survey and plat of the Kirkland Family Cemetery in 1966. A second survey & measured plat were made by Jack L. and Onie B. Evans in June 1972. The whole was rechecked May 8, 1974.

Graves, Marked - There were 20 identified graves. Four graves are covered by massive sandstone slabs. The inscription on William Kirkland's (d. 1836) slab is now dim and nearly illegible. The grave of Miss Maggie McLester (d. 1921) is marked only by a rough stone.

Graves, Unmarked - There are almost certainly unidentified graves in this cemetery. Records state that Kenneth William Kirkland, a Scots cousin, and Jane Kirkland, the youngest daughter of John Kirkland, were also buried here on the same day, January 28, 1849. There are no visible indications of graves for these 2 persons.

Current Status - The Kirkland Family Cemetery is a rectangular plot, 50' X 82', enclosed by iron fencing and carefully maintained. Two deodar cedars stand inside the fence at the western corners of the cemetery. A flower-bordered path once led to the entrance gate on the east. Just inside the eastern fence are the vestiges of a 4' wide flagstone walk running along the entire eastern boundary. A forsythia bush and a rose are planted inside the cemetery, and two hackberry trees have grown up outside the western fence.

Comment - For information on Ayr Mount and the Kirkland Family see the book by Jean Bradley Anderson, 'The Kirklands Of Ayr Mount' (Chapel Hill, NC: Univ. Of North Carolina Press, 1990).


Kirkland, Alexander McKenzie (b. 3 Dec 1809 - d. 7 May 1843)
Son of William Kirkland of Ayrshire, Scotland, And Margaret Scott His Wife; And Husband of Anna McKenzie Cameron. Aged 33 Yrs., 5 Mos. 'A Dutiful Son, A Tender Husband, A Fond Father...' Footstone: A.M.K.

Kirkland, Anna McKenzie Cameron (b. 1817 - d. 1890)
Wife of Alexander McK. Kirkland. Footstone: A.M.K.

Kirkland, Bessie Simpson (b. 25 Dec 1872 - d. 21 Dec 1948)

Kirkland, Elisabeth A (b. 29 Oct 1809 - d. 30 Dec 1881)

Kirkland, Hallie McLaren (b. 1 Jun 1870 - d. 9 Dec 1926)

Kirkland, Harriet McLaren (b. - d. 12 Apr 1908)
Wife of John Kirkland Aged 69 Yrs.

Kirkland, Jane (b. - d. )
(Unmarked Grave) Buried 28 Jan 1849. Youngest Daughter of John Kirkland.

Kirkland, John B (b. 29 Mar 1865 - d. 14 Jan 1938)

Kirkland, John U, Jr (Capt) (b. 24 Apr 1837 - d. 3 Apr 1914)
Adjt 5th Reg Nc Vols C.S.A.

Kirkland, John Umstead (b. 20 Mar 1802 - d. 25 Jan 1879)

Kirkland, Kenneth William (b. - d. )
(Unmarked Grave) Buried 28 Jan 1849. A Scots Cousin of The Kirklands.

Kirkland, Margaret Blain Scott (b. - d. 6 Jul 1839)

Kirkland, Mary Anderson (b. 24 Aug 1809 - d. 27 Jul 1880)

Kirkland, Robert S (b. 6 Nov 1877 - d. 30 Oct 1947)

Kirkland, Sadie McLaren (b. 6 Mar 1875 - d. 5 Apr 1918)

Kirkland, Samuel Simpson (b. 28 Feb 1883 - d. 6 Nov 1971)

Kirkland, Susan Umstead (b. 12 Dec 1810 - d. 12 Nov 1870)

Kirkland, William (b. - d. 21 Jun 1836)

Manly, Charles (b. 27 Aug 1855 - d. 7 Aug 1856)
Infant Son of Mattheus E and Sarah L Manly Sarah Manly Was A Sister of Elizabeth A Simpson Kirkland And Also of Maria S Hill and Mary S Nash, Hence The Burial of The Son of Sarah and Manly In The Kirkland Cemetery.(Lamb On Top of Stone, Roses Entwined On Cross Stonecutters Mark: Grier)

McLester, Maggie (b. 3 Sep 1842 - d. 1 Aug 1921)
(Known As 'Margaret') Born In Columbia, Ga. Died In Hillsboro, N.C. (Daughter of Phoebe Kirkland and Dr. McLester) (grave Marked by Rough Stone, Data From Kirkland Family Bible)

McNeill, Elizabeth M. (b. - d. 19 Sep 1822)
Wife of George McNeill Aged 26 Yrs. Footstone: E.M.McN.

McNeill, William Kirkland (b. - d. 10 Oct 1817)
Son of Geo and Elizabeth McNeill Aged 1 Yr., 10 Mos., and 21 Ds. Footstone: W.K.McN.

Mickle, Andrew (b. - d. )
(Unmarked Grave) of No. 6 Head of Leith Walk, Edinburgh, Scotland. Died In Hillsborough After 1815.
Web page updated 13 May 2017
Index of All Cemeteries
Alphabetical Index of All Burials
Previous Page