Index of All Cemeteries
Alphabetical Index of All Burials
Previous Page
Use the following to search across all the cemeteries listed.
Example: "Smith, Roger" (yes, use the quotes)
149 KENION, BENJAMIN J. FAMILY CEMETERY (CA. 1894)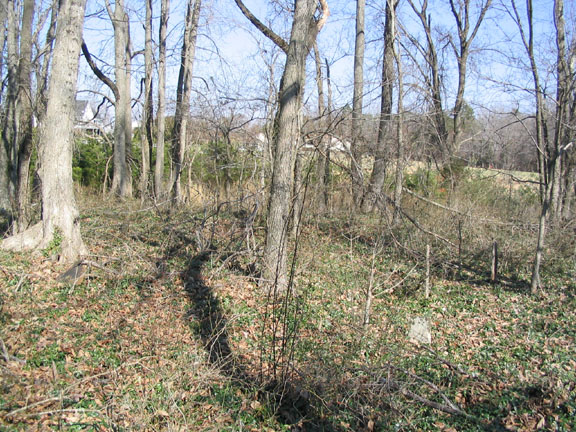 Location - NE of Hillsborough near the Cedar Grove Township-Little River Township line, 400 ft SE of Hwy 57 in a new housing development across from the former home of Lindsey Woods at 3600 NC 57. In the back yard of a home at 3316 Forrester Bend Road. It formerly stood in a cultivated field.

Coordinates: 36d 08m 23.0s N; 79d 04m 09.0s W Click here for Google maps

Survey - Mr. Alonzo B. Coleman surveyed the site on October 28, 1974. See his comments under 'Kenion, Benjamin J.' Milton Forsyth visited and photographed the cemetery in February 2005 through the courtesy of Mr. T. D. Parker.

Graves, Marked - There was 1 marked grave.

Graves, Unmarked - There appear to be many unmarked graves in this cemetery.

Status [2005] - This cemetery has been preserved in its natural state by the homeowner. It is covered with periwinkle and brambles.


Kenion, Benjamin J. (b. 21 Jan 1816 - d. 27 Nov 1894)
Footstone: B. J. K.

Mr. Alonzo B. Coleman, Sr. made these comments regarding this cemetery: Benjamin J. Kenion was buried in a clump of trees in a field on Hwy #57, on the right hand side of the road, in front of Lindsay Woods' house. Benjamin J. Kenion was a J.P. and a brother of Ann Kenion Nichols, Wife of Duncan Nichols, both buried in the Nichols Cemetery on #57 [Note: see Cemetery #169]. GrandSon of Joseph Shaw. Shaw's will (Bk E p. 277, d. Aug 1832) names the following: Drusilla Ann m. Dennis Hargis; Maria Shaw m. Paul Kenion - had son Benjamin J. Kenion; Catherine H. who m. Mr. Horton; Joseph B. Shaw who had a son Joseph John Shaw; and Neal H. Shaw.
Web page updated 13 May 2017
Index of All Cemeteries
Alphabetical Index of All Burials
Previous Page